Action not platitudes needed on Day of the Seafarer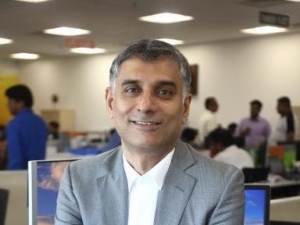 (Posted on 25/06/21)
Captain Rajesh Unni, Founder and CEO of Singapore headquartered, Synergy Group, believes solutions are available to standardise and distribute vaccines, ensure seafarers get emergency medical treatment and better organise crew changes. The problem is a deficit of political leadership which is now so severe it is infringing the human rights of seafarers.
After a year of seafarer mistreatment by governments and ineffective lobbying on their behalf by the shipping industry, stronger action is now needed as the industry marks Day of the Seafarer 2021 on June 25, according to Captain Rajesh Unni, Founder and CEO of Synergy Group, which currently manages a diverse fleet of almost 400 vessels.
Captain Unni believes there are simple steps political leaders can take to uphold seafarer human rights and bring some order to the patchwork of Covid-related national rules that are now often making it difficult to ensure crews receive emergency treatment and vaccines. Indeed, many countries are now even banning the repatriation of the mortal remains of seafarers that pass away at sea, irrespective of cause of death or the Covid-19 status of those onboard the vessel.
"For over a year the shipping industry has been pleading for leadership from political leaders to help us find ways of running our businesses and treating seafarers with the respect they deserve," said Captain Unni. "Another Day of the Seafarer is upon us and thus far our pleas have largely fallen on deaf ears.
"Just how little concern there is for shipping and seafarers was apparent with the tragic case of the Romanian captain of the Vantage Wave. The master tragically passed away on April 19 after suffering a suspected heart attack. There were no suspected Covid-19 complications. However, efforts to repatriate his body were thwarted by lockdown regulations at every turn.
"Human Rights at Sea reported that efforts were made to disembark the captain in a number of Asian countries, but permission could not be obtained. Almost two months later and the body was still on the ship and crew were facing food and water shortages at anchorage off China. This is not right.
"And this was not a one-off event. According to the International Transport Workers' Federation, since March 2020 the bodies of at least 10 seafarers who died at sea have been held on ships and denied disembarkation to repatriate the remains, causing great additional grief for their friends and families. None of the seafarers died because of Covid-19."
Throughout the Covid -19 pandemic, shipping has somehow managed to keep global trade arteries functioning, enabling countries around the world to receive the food, energy, PPE and vaccinations they need. The payback for keeping global supply chains open has been, with some notable exceptions, sparse, according to Captain Unni.
Currently, for example, finding the means of getting treatment for sick seafarers is often all but impossible, irrespective of any Covid-19 infections on board. "We have had several cases when Synergy-managed ships which have been made to wait for several days for emergency medical attention for crew," he said.
"This is not humane by any standards of decency. Often vessels have had to sail a significant distance to find a port or country that will accept them for medical attention. These are the people, key workers, who are keeping nations fed and warm. They are supplying the parts and equipment that are facilitating economic rebounds. Yet when they get sick they are treated in this unconscionable manner."
Latest News
(Posted on 26/11/23)
Shi.E.L.D. Services has selected Spinergie as its preferred digitized solution provider to monitor and... Read more
(Posted on 26/11/23)
Thousands of cadets and trainees in India will benefit from in-depth wellness training and support thanks... Read more
(Posted on 17/11/23)
As shipping continues its journey to decarbonisation, INTERCARGO will host a special forum in Athens... Read more
(Posted on 13/11/23)
INTERCARGO was deeply saddened and concerned to hear of the reported appalling missile attack on the... Read more
(Posted on 13/11/23)
A new-look Wellness at Sea Awareness Campaign for seafarers, their families and shore staff that &ldquo... Read more
(Posted on 05/11/23)
Classification society DNV has entered into a Joint Development Project (JDP) with AL Group and its... Read more
(Posted on 31/10/23)
Samsung Heavy Industries (SHI) and leading classification society DNV have inked a Memorandum of Understanding... Read more
(Posted on 31/10/23)
WISTA International, during its Annual General Meeting (AGM) held in Montevideo, Uruguay, on 25 October... Read more
(Posted on 31/10/23)
Members of INTERCARGO met in Athens last week for the Association's Annual General Meeting, Executive... Read more
(Posted on 26/10/23)
The Columbia Group (Columbia) has opened a new manning agency, Columbia Shipmanagement Vietnam (CSM... Read more