ABS opens new global HQ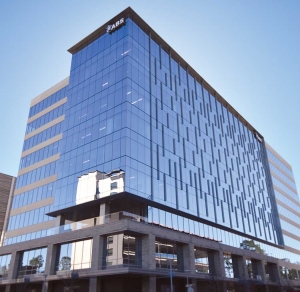 (Posted on 14/01/19)
ABS has held its official ribbon-cutting ceremony, formally opening its new global headquarters. Anchoring the CityPlace 2 development, the building is located at 1701 City Place Drive, Spring, Texas.
"This is a significant milestone in our 157-year history and reaffirms our commitment to provide industry-leading safety and practical technology solutions for marine and offshore industry challenges," said ABS Chairman, President and CEO, Christopher J. Wiernicki.
"A five-year journey that started as an idea has now culminated in a building reflecting our leadership position and our continued vision for growth. Our building provides open and inviting spaces where we gather with industry partners to collaborate and engage in advancing innovation to directly support our safety mission," added Wiernicki.
The state-of-the-art global headquarters visibly represents the industry's data-driven sustainability journey, as it is home to the ABS cyber and digital laboratories. These technology acceleration centers bring together employees, clients, industry and academia to develop, test and apply smart technology solutions, which enable informed decisions in the face of fast-moving environmental requirements.
During the ribbon-cutting ceremony, Wiernicki received a declaration from U.S. Congressman (R-TX) Kevin Brady, and a proclamation from Harris County Commissioner Precinct Four, R. Jack Cagle, acknowledging the ABS investment in the community. Wiernicki further thanked the teams that were instrumental in the development of the project over the last 18 months, Cushman & Wakefield, Patrinely, Coventry and USAA, and recognized the support from J.J. Hollie of the Woodlands Chamber of Commerce.
Tim Relyea, Executive Vice Chairman of Cushman Wakefield, said, "From the very beginning, ABS was clear in its vision to have an energy-efficient building located among a modern, high-quality amenity base, including hotels, restaurants, and fitness facilities so their employees have the best workplace solution in and around Houston."
"It has been an honor working with ABS to bring this transformational building to fruition," said Dean Patrinely, Managing Principal of Patrinely Group. "ABS is a first mover and we are proud to have you as a leader in our development. Your presence sets the pace, bringing technology and innovation to CityPlace and further establishing it as a destination for modern, industry-leading companies."
The new world headquarters is a 10-story, 326,800-sq-ft building housing employees from ABS and its affiliated companies.
ABS, a leading global provider of classification and technical advisory services to the marine and offshore industries, is committed to setting standards for safety and excellence in design and construction. Focused on safe and practical application of advanced technologies and digital solutions, ABS works with industry and clients to develop accurate and cost-effective compliance, optimized performance and operational efficiency for marine and offshore assets.
Latest News
(Posted on 31/03/23)
In line with Norden's 2023-2025 strategy to capitalise on the most attractive opportunities in... Read more
(Posted on 31/03/23)
American Bureau of Shipping, A.P. Moller - Maersk, Fleet Management Limited, Georgia Ports Authority... Read more
(Posted on 31/03/23)
Although news teams might have moved on to other locations and different crises, for those Turks and... Read more
(Posted on 28/03/23)
The board of Oldendorff Carriers, has appointed Patrick Hutchins as the new President and CEO of the... Read more
(Posted on 28/03/23)
The Swedish Club is looking to the future with the expansion and restructuring of the Club's management... Read more
(Posted on 24/03/23)
One Sea has welcomeed Finnish start-up Groke Technologies as its new member, bringing additional expertise... Read more
(Posted on 24/03/23)
ClassNK has released "FAQs on the EU-ETS for Shipping", an overview and necessary preparation... Read more
(Posted on 20/03/23)
AXSMarine, a pioneer and market leader in the provision of advanced solutions for shipping professionals... Read more
(Posted on 20/03/23)
Shipzero is enabling transport and logistics companies to create transparency about their emissions... Read more
(Posted on 07/03/23)
The Isle of Man Ship Registry (IOMSR) has become an associate member of The International Association... Read more