ABB Azipod debuts in Oldendorff bulk ship delivery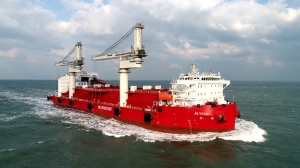 (Posted on 19/01/21)
China's Chengxi Shipyard has handed over the first of twin self-unloading transshipment newbuilds after both owner and builder highlighted successful installation and commissioning for Azipod propulsion.
The delivery saw two 1.9-MW Azipod units installed on each of the 21,500-DWT transshipment bulkers for Germany's largest bulk carrier owner, as part of a package of electric, digital and connected solutions from ABB. The scope of supply also included diesel-electric power plant, drive systems complete with two bow thruster motors, power management systems for propulsion and cargo handling, as well as a 50/60-Hz connectors to draw on zero emission shore power when in port.
"Collaborating with ABB has been a very positive experience," said Joern Westfehling, Newbuilding Manager, Oldendorff Carriers." We look forward to reaping the operational rewards of Azipod propulsion, such as enhanced vessel efficiency and increased manoeuvrability."
Mr. Jiafa Jiang, Vice General Manager of Chenxi Shipyard (Yangzhou) Co., Ltd added: "This was Chengxi Shipyard's first time installing Azipod® technology, and the process went remarkably smoothly. Compared to a conventional propulsion system, ABB Azipod® propulsion has greatly reduced the construction complexity for the yard thanks to its simple design and ease of installation. ABB worked seamlessly with Chenxi Shipyard to ensure successful delivery of this world's first self-unloading transshipment vessel. I would like to devote my appreciation to the ABB project and commissioning team for their professional working spirit."
Controlling a fleet of around 700 ships, around 95% of Oldendorff's owned fleet is comprised of 'eco' newbuilds delivered since 2014, which are specifically designed for low fuel consumption and reduced carbon footprint. And since its forthcoming vessels will be tasked with transferring cargo from oceangoing ships in deep water for delivery to a port with restricted draft and space, maneuverability is also a vital consideration.
"We are delighted that the first bulk carriers to feature Azipod propulsion have been successfully delivered," said Juha Koskela, Division President, ABB Marine & Ports. "The project fully demonstrates that Azipod is the go-to solution for environmentally conscious operators of all ship types. Because the electric drive motor is housed within a submerged pod outside the ship's hull, the Azipod unit is capable of 360-degree rotation, improving maneuverability and operational efficiency. This also frees up cargo space on board, potentially boosting vessel profitability further."
Over the course of three decades, ABB has supplied Azipod units for around 25 vessel types, with the propulsion system accumulating more than 17 million running hours in that time. As a flexible, proven fuel-saving technology, Azipod system has played a key role in developing ABB's strong position for environmentally-friendly electric propulsion.
ABB Marine & Ports supplies world-leading technologies that are driving the evolution of sustainable shipping. Electrical propulsion, data-driven decision support and integrated solutions for ship and shore from ABB are paving the way to a zero-emission marine industry, providing greater efficiency and reliability to shipowners, and preparing vessels to meet the demands of tomorrow. Our automation and electrical solutions are making port and terminal operations safer, greener and more productive. ABB Marine & Ports operates in 26 countries and has 2,000 employees. www.abb.com/marine
ABB is a leading global technology company that energizes the transformation of society and industry to achieve a more productive, sustainable future. By connecting software to its electrification, robotics, automation and motion portfolio, ABB pushes the boundaries of technology to drive performance to new levels.
Latest News
(Posted on 23/01/23)
KVH Managed Firewall and Cloud Email value-added services available to commercial fleets to enhance... Read more
(Posted on 23/01/23)
NAVTOR has been announced as the latest industry leader to join the Smart Maritime Network (SMN).The... Read more
(Posted on 16/01/23)
One Sea has welcomed intelligent navigation solutions provider, Orca AI, as the newest member of the... Read more
(Posted on 10/01/23)
Elcome International, a leading provider of maritime systems and integration solutions, is providing... Read more
(Posted on 10/01/23)
Corrosion Products & Equipment (CPE), a specialist engineering firm based in Rochester, New York... Read more
(Posted on 04/01/23)
Bruks Siwertell has secured a new Siwertell ship unloader contract from cement and ready-mix concrete... Read more
(Posted on 23/12/22)
Superior Industries, Inc., a US-based manufacturer and global supplier of bulk material processing and... Read more
(Posted on 23/12/22)
Bruks Siwertell has received an order from Hallet Capital Pty Ltd for a Siwertell ship unloader. It... Read more
(Posted on 20/12/22)
One Sea has welcomed South Korea's Avikus as its latest member, consolidating its position as... Read more
(Posted on 20/12/22)
Cargotec CEO Mika Vehviläinen has informed Cargotec's Board of Directors of his intention... Read more