A new era begins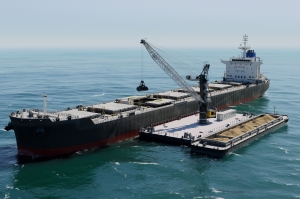 (Posted on 01/09/22)
Liebherr's portfolio of port and transshipment solutions has been expanded to include the all-electric transshipment crane CBG 500 E. The crane combines state-of-the-art drive technologies with Liebherr's own crane control system "Master V". Another highlight is the energy recovery system LiCaTronic, which makes optimum use of the energy available. The numerous configurations ensure the crane is versatile and adaptable to different customer needs.
The new all-electric crane CBG 500 E expands the transshipment solutions portfolio with a reliable machine that offers a handling performance of up to 2,000 tonnes per hour. The all-electric drives inside the crane in combination with the supercapacitors turn the rope luffing CBG 500 E into a unique handling solution in the market. The supercapacitors used as standard in Liebherr's own LiCaTronic energy recovery system support the increasing requirements regarding energy efficiency. The combination of state-of-the-art inverter technology, power storage and application specific power management leads in a powerful drive system with simultaneous reduction of the required energy.
The CBG 500 E is a heavy-duty transshipment crane that operates emission-free and environmentally friendly.
In addition to the powerful and efficient drives, the whole crane structure is optimised for an extraordinary performance. The boom of the CBG 500 E was designed as a lattice boom. This makes it particularly stiff and light, which further improves the turnover performance and at the same time reduces the energy need. The result is a lifting capacity of up to 105 tonnes in hook operation and a maximum grab capacity of up to 90 tonnes. The extension of the cabin and the high positioning ensure that the crane operator has an optimal viewing angle of all processes. The crane operator is supported operationally by the new, integrated "Master V" crane control system. Together with an even more efficient software architecture, it forms the basis for integrating future assistance and automation systems into the crane in the long term.
With the CBG 500 E, a crane has been developed that can be flexibly adapted to its subsequent purpose. An essential choice concerns the length of the boom, as the crane can be configured with 43 m and 50 m boom. The longer boom variant offers the decisive advantage of enabling direct transshipment between two vessels in sheltered and open water. The modes of operation range from bulk to container handling and are independent of the area of operation. For installation on a barge, the crane can be equipped with additional counterweights, enabling safe cargo handling in this application as well.
Optional configuration options such as a comfort ascent or additional platforms and boom walkways for maintenance purposes complete the configuration possibilities.
Latest News
(Posted on 05/06/23)
Digitalisation can only go so far in protecting safe navigation in busy shipping lanes with human involvement... Read more
(Posted on 05/06/23)
Inmarsat Maritime, a Viasat business, and a world leader in global, mobile satellite communications,... Read more
(Posted on 02/06/23)
Belgian logistics and transportation company Zuidnatie NV ordered their first Generation 6 Konecranes... Read more
(Posted on 31/05/23)
Norwegian government agency Statsbygg has awarded Framo the development contract to supply pump systems... Read more
(Posted on 30/05/23)
Technology group Wärtsilä has signed a contract to deliver a Wärtsilä 20&nbsp... Read more
(Posted on 23/05/23)
Bruks Siwertell has secured an order from Senegal Minergy Port SA (SMP) for a high-capacity Siwertell... Read more
(Posted on 17/05/23)
To support the sizeable lumber industry in New Zealand, Liebherr Maritime Cranes has worked with ISO... Read more
(Posted on 14/05/23)
The Desmi Group's general assembly has approved the year end result for 2022 – record-high... Read more
(Posted on 06/05/23)
EMS-Tech, a leading provider of custom designed bulk material handling systems, has opened a new office... Read more
(Posted on 02/05/23)
Technology group Wärtsilä and DNV's industry cloud platform Veracity have entered a... Read more