20 years of pioneering AXSMarine.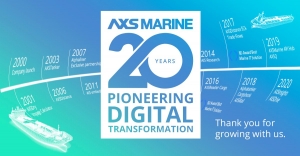 (Posted on 21/07/20)
AXSMarine, a leader in the provision of shipping intelligence for Dry, Tanker and Liner, today marks the 20-year anniversary of its launch. What started as an early believer in Software-as-a-Service (SaaS) system has since evolved into a full ecosystem of multiple integrated market intelligence solutions, building a shipping community, and helping it benefit from digitalization.
Starting their voyage in 2000, AXSMarine witnessed the peak of the Dotcom Boom. The period was marked by the rise and the fall of many companies, struggling to ride an ongoingly changing wave. This led to numerous options available on the market and the number has been peaking again over the past few years, with the launch of many new start-ups.
Th?t's how the past 20 years have seen an exponential growth in the number of apps available to businesses for every facet of shipping. Today, most shipping companies use at least three service providers to manage their business day to day. It's the proliferation of suppliers giving companies more options but has also added complexity as it becomes harder to find the right partners and apps for dynamically changing industry needs.
In fact, the top pain point for marine companies using multiple service providers is friction caused by a disconnect between their business goals, providers they hire, software and data they use. Pioneering the digitalization in shipping, AXSMarine recognizes these challenges and provides a complete ecosystem of online based tools, data, complimentary customer success and support services, and solutions to create ever-evolving experience for the clients.
"The past 20 years have attested remarkable increase in the number of software products designed to help various shipping professionals" said Jacques Goudchaux, CEO at AXSMarine. "But harnessing that innovation to deliver remarkable customer experiences isn't just a function of individual app features. It's how well your stack of apps work together, in concert across your entire clients' journey. By giving you the freedom to choose from an ecosystem of multiple integrated solutions, AXSMarine lets you tailor unique experiences and business capabilities that are seamlessly connected through a common platform."
"The evolution of AXSMarine has mirrored the evolution of shipping. As we've developed our business over the past two decades, our clients have led in that growth – to meet the market's highest standards - by ongoingly sharing their challenges and pain points", added Jacques. "Our clients have played such an important role in supporting our mission to build a community and help over 10 000 users grow better together."
"Our developments will continue to provide the shipping community with end-to-end solutions and flexibility to integrate data with other systems" concluded Jacques. "Our data and tools will keep on working in concert to paint the most accurate picture of the market. AXSMarine's upcoming products are designed around our core values of absolute innovation and providing as much functionality in a compact package as possible – a more unified ecosystem than ever.
I can't wait to see what we're able to achieve together over the next 20 years and beyond."
Latest News
(Posted on 27/09/23)
As the global shipping industry today celebrates World Maritime Day with its central theme of &ldquo... Read more
(Posted on 26/09/23)
Leading provider of secure maritime data communications software, GTMaritime, has reached 15,000 installations... Read more
(Posted on 26/09/23)
Posidonia Exhibitions, organisers of Posidonia, the International Shipping Exhibition, is launching... Read more
(Posted on 19/09/23)
Seven months after its formal launch, NorthStandard is already realizing tangible benefits from combining... Read more
(Posted on 12/09/23)
Maritime nuclear technology company CORE POWER has boosted its Global Advisory Board with four new high... Read more
(Posted on 12/09/23)
Foreship has relocated its UK subsidiary to larger premises and appointed Tuur Killaars as Senior Sustainability... Read more
(Posted on 08/09/23)
Classification society DNV has signed a Memorandum of Understanding (MoU) with Singapore-based ship... Read more
(Posted on 08/09/23)
Leading blended learning provider Intelligent Seas Group (ISG) is delighted to announce its collaboration... Read more
(Posted on 04/09/23)
Record year-on-year declines in rainfall has been identified as the 'likely culprit' for... Read more
(Posted on 04/09/23)
After years of keeping a vital navigation service operating on the same income, Middle East Navigation... Read more