100th Liebherr MHC in Spain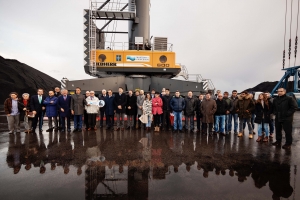 (Posted on 18/11/19)
Liebherr has handed over the 100th Liebherr mobile harbour crane, a new LHM 600, to the Spanish customer Maritima del Principado
in Gijón. Spain is now the third country in the world, alongside Russia and India,
with a fleet of 100 or more Liebherr mobile harbour cranes.
Liebherr maritime cranes reached another milestone. Liebherr representatives of the
maritime cranes headquarters in Rostock, Germany handed over the 100th LHM to the
Spanish customer Maritima del Principado. The ceremony took place in Gijón, Spain.
The new machine is an LHM 600 and belongs to Generation 5, the latest technical
development stage in the Liebherr Mobile Harbour Crane program.
The history of the Liebherr mobile harbour crane in Spain started more than 27 years
In 1992 Liebherr delivered its first mobile harbour crane to Spain. It was
an LHM 1300. The crane was like many Liebherr products a pioneer of its time. A
highly innovative and reliable crane in the market. The LHM 1300 proves its durability
every day again, because it is still in operation in Spain.
"Today the population of mobile harbour cranes in Spain is at a high level of 179
machines in total," comments Andreas Müller, Sales Director of Liebherr Mobile
Harbour Cranes. "We at Liebherr maritime cranes are very proud to have achieved a
market share of more than 55%. This great trust of our customers in us and our
products and services shows that the Liebherr company philosophy is also lived in
Spain."
There are only two other countries in the world that have a fleet of Liebherr mobile
harbour cranes of 100 or even more machines. The first country to reach this magical
mark was Russia, closely followed by India. With the recent handover of the LHM 600
to Maritima del Principado, Liebherr was now able to support 100 customers in Spain
with its effective Mobile Harbour Crane technology. There will certainly be many more
satisfied customers to follow.
Latest News
(Posted on 26/11/23)
VIKING Life-Saving Equipment, a global leader in maritime safety solutions, is launching an innovative... Read more
(Posted on 26/11/23)
Damen's client Gerdes Green has received a subsidy from the German Government for the investment... Read more
(Posted on 17/11/23)
A first of its kind training course for the Middle East has been held to teach mariners about the basic... Read more
(Posted on 13/11/23)
Wärtsilä ANCS, part of technology group Wärtsilä, has delivered to Seaspan, a marine... Read more
(Posted on 31/10/23)
The flag raising ceremony for three new ASD Tugs has taken place in Gdansk, Poland. In the presence... Read more
(Posted on 26/10/23)
A new immersive crane simulator that can recreate high-risk scenarios without putting drivers or other... Read more
(Posted on 23/10/23)
Vesto Ropes, a global leader in innovative steel wire-rope solutions, has announced a strategic partnership... Read more
(Posted on 23/10/23)
Bedeschi S.p.a. has been awarded a contract for the design and supply of a new longitudinal storage... Read more
(Posted on 18/10/23)
Rhenus Maritime Services (RMS) is adding a new coastal vessel to its fleet in the shape of the RMS Ruhrort... Read more
(Posted on 18/10/23)
Dualog, a leading maritime software provider, has introduced a major enhancement to the Dualog Drive... Read more