Work starts at Amsterdam's Energiehaven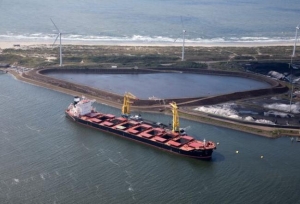 (Posted on 29/07/21)
This coming week, Rijkswaterstaat will see the start of preparatory work to remove contaminated dredged material from the Averijhaven depot in Amsterdam. This is necessary to transform the site on the sea side of the North Sea Canal into the Energiehaven.
A leading player in dry bulk, Amsterdam is the fourth largest port in Western Europe. The Amsterdam port region has an annual cargo throughput of over 100 million tonnes.
The new business park offers great opportunities for the energy transition and in achieving important regional and national climate targets.
The approximately 850,000 cubic metres of dredged material will be removed from the depot and transported by ship to the National Depot De Slufter in Rotterdam, where it will be stored permanently. The Averijhaven depot was once built to temporarily store the contaminated dredged material from the North Sea Canal. No new dredged material has been added since 2012.
In August, a so-called cutter suction dredger will be hoisted into the depot. This is an appliance that uses a rotating cutter head to loosen the dredged material. The dredged material is then transferred via a pressure pipeline to a transport ship for transport to the National Depot De Slufter in Rotterdam. The passing ships in the Noorder Buitenkanaal will not be hindered by the work. The work is expected to be completed in May 2022.
After removing the dredged sediment, the Averijhaven site will be transferred to the province of North Holland, the municipality of Velsen, Port of Amsterdam and Zeehaven IJmuiden. This consortium will develop the Averijhaven site and the adjacent Tata Steel site into the Energiehaven. The new Energiehaven will make a significant contribution to the energy transition and the sustainability of the region. The public port site is focused on offshore wind activities and will be a base for the construction of wind farms that will be built in the North Sea in the coming years. The development of the Energy Port is a collaboration between the parties in the consortium, the Ministry of Infrastructure and Water Management and Tata Steel.
Latest News
(Posted on 20/03/23)
Abu Dhabi based AD Ports Group, the leading facilitator of global trade, logistics, and industry, has... Read more
(Posted on 20/03/23)
Grain handling at the Port of Immingham is increasing thanks to the new opportunities presented by investment... Read more
(Posted on 07/03/23)
Marcor Stevedoring has signed a contract adding Liebherr's largest and most powerful mobile harbour... Read more
(Posted on 07/03/23)
AD Ports Group, an Abu Dhabi based leading facilitator of global trade, logistics, and industry, and... Read more
(Posted on 02/03/23)
LOGISTEC Stevedoring Inc., a subsidiary of LOGISTEC Corporation, a leading North American marine and... Read more
(Posted on 28/02/23)
End-of-year figures for total traffic in the Spanish Port of Bilbao stand at 32.7 million tonnes, up... Read more
(Posted on 24/02/23)
The Port of Sept-Îles and LOGISTEC Arrimage Inc. have announced that they have reached the impressive... Read more
(Posted on 24/02/23)
The war in Ukraine led to unprecedented changes in goods flows last year. At 467.4 million tonnes, total... Read more
(Posted on 24/02/23)
In Q3 2022, two port operating companies in Guyana – Muneshwers Ltd. and John Fernandes Ltd. &... Read more
(Posted on 20/02/23)
The Port of Trois-Rivières closed 2022 with a record number of goods handled. A total of 4.3... Read more