Vancouver USA seeking west coast bulk facility operator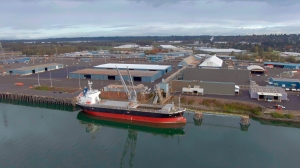 (Posted on 27/01/21)
The Port of Vancouver USA is seeking Statements of Interest (SOI) from parties interested in operating a high-volume marine export bulk facility at the port's Terminal 2, Berth 7 location.
SOI submissions are due by 5 p.m. PST on Monday, March 12, 2021. To submit questions regarding this SOI, email port sales director, Brent Berg, at bberg@portvanusa.com by 5:00 pm PST on Monday, February 15, 2021. Answers will be prepared and distributed to all firms at the same time no later than 5:00 pm PST on Monday, 1 March, 2021.
The marine bulk facility is located within the port's Terminal 2 on approximately 14 acres, with 11 acres dedicated to the cargo receiving and storage areas. The dry bulk dock is capable of handling a broad range of heavy mineral bulk commodities quickly and efficiently using a telescoping conveyor system. In the past, copper concentrate, bentonite clay, mill scale and tire chips, all destined for international export, have transited the facility.
Served by four rail support tracks and one working track, the covered rail cargo receiving facility features a bottom dump system where product can be conveyed to one of two storage buildings. The port is open to a diverse commodity mix that will take advantage of this premium rail-served location.
In addition to the bulk facility, this opportunity extends to the strategic advantages of the Port of Vancouver itself. A premier shipping gateway for the United States and Canada, the port is strategically located on 1,600-plus acres along the Columbia River and connects the dots of global commerce from Asia, South America and Europe to all of North America.
The port is situation at the nexus of two interstate highways, a continent spanning rail network and a 43-foot deep draft shipping channel. These features plus a professional staff and highly skilled workforce, provides potential tenants unmatched logistics and service.
"This dry bulk facility is a unique opportunity, especially on the U.S. West Coast," said port chief commercial officer Alex Strogen. "With the port's unparalleled access to river, road and rail, shippers bypass the facility traffic and road congestion of other West Coast ports, improving transit times and overall logistics."
"We look forward to hearing from firms interested in partnering with us to grow their business in our community."
Again, to submit questions about this SOI, please email Brent Berg at bberg@portvanusa.com by 5:00 pm PST on Monday, February 15, 2021 and SOI responses are to be submitted via email to consultantproposals@portvanusa.com no later than 5:00 pm PST on Friday, 12March, 2021.
The Port of Vancouver USA is one of the major ports on the Pacific Coast, and its competitive strengths include available land, versatile cargo handling capabilities, vast transportation networks, a skilled labour force and an exceptional level of service to its customers and community.
Visit https://www.portvanusa.com/marine/bulk-export-facility-statement-of-interest/ to download the SOI requirements and learn more about the Port of Vancouver USA.
Latest News
(Posted on 26/11/23)
A 194 million euro investment in North Sea Port will secure large-scale CO2 reduction by the largest... Read more
(Posted on 17/11/23)
The Central Association of German Seaport Operators (ZDS) has called for a decisive German port policy... Read more
(Posted on 13/11/23)
A groundbreaking feasibility study has highlighted the potential for using clean ammonia to refuel ships... Read more
(Posted on 05/11/23)
IAPH has announced the ratification by the IAPH Council of the new IAPH Board. The Board is formed by... Read more
(Posted on 05/11/23)
CN has announced that it acquired from Genesee & Wyoming Inc., a stake in the Cape Breton &... Read more
(Posted on 31/10/23)
Due to continued very high inflation, the Hamburg Port Authority (HPA) will raise port fees by an average... Read more
(Posted on 31/10/23)
The UK's leading ports group, Associated British Ports (ABP), has appointed Jeff Gibb as Lead... Read more
(Posted on 26/10/23)
In the first nine months of 2023, there was 6% less throughput in the port of Rotterdam: 329.9 million... Read more
(Posted on 26/10/23)
After nine months, the total throughput of Port of Antwerp-Bruges was 204.4 million tonnes, a drop of... Read more
(Posted on 19/10/23)
LOGISTEC Corporation have announced that it has entered into an arrangement agreement with 1443373... Read more