Vancouver USA jobs boost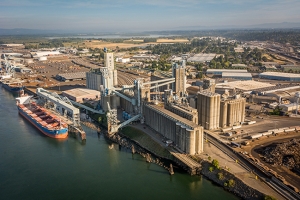 (Posted on 03/10/19)
The Port of Vancouver USA supported more than 24,000 jobs in their region in 2018, an increase of nearly 4,000 jobs since 2014, according to an independent analysis by Martin Associates.
The Port of Vancouver USA is one of the major ports on the US Pacific Coast and is primarily a bulk import and export facility with dedicated facilities for specific commodities, such as grain, soy beans, corn, mineral ores, concentrates, fertilizers, clays, bauxite and agricultural commodities.
The study calculated the economic benefits tied to the port's marine and industrial activities and was an update to the analysis conducted by the firm in 2014. It found that 24,068 total jobs were supported by the port in 2018, including 3,910 direct jobs at port facilities, making the port, along with its tenants, the second largest employer in Clark County.
Positive impacts of increased jobs ripple throughout Southwest Washington and the region, with the following economic benefits:
$753.3 million in wages, salaries and local consumption generated by the port
Average annual salary of $56,415 for each port-generated direct job
$132.4 million in state and local taxes, which support public services such as schools, police and fire protection
$386.2 million in local purchases
In addition, 2018 was the port's fifth consecutive year of record cargo volumes, with 8.1 million metric tons of product crossing the docks. Combined with revenue generated from the port's industrial tenants, that adds up to a total regional economic value of $3.76 billion. The $860 million increase since 2014 was driven primarily by additional handling of steel and agricultural products.
"The port has done a great job keeping us working," said Cager Clabaugh, President of the ILWU Local 4. "They've attracted a wide variety of cargoes that keep the ships coming, and keep our members on the job, even with global trade uncertainties."
Investments in landside and marine infrastructure have also set the port up for success.
"Over the past decade, we have made a commitment to investing in the infrastructure that our tenants depend on," said Port of Vancouver USA CEO Julianna Marler. "The West Vancouver Freight Access Project and Centennial Industrial Park are just two examples of our work to lay a foundation for growth at the Port of Vancouver. We continue to think strategically about making targeted investments today, so we can create jobs and build the economy for Vancouver and for the region well into the future."
"It is exciting to hear the positive results of the port's economic benefit study," said Vancouver Mayor Anne McEnerny-Ogle. "The Port of Vancouver is an important economic driver in our region and plays a vital role in job creation and continuing the Columbia River's rich history of trade."
The port commissions the Martin Associates study to measure its economic influence in Clark County and the Pacific Northwest, and to assist in planning the port's future.
Latest News
(Posted on 24/03/23)
LOGISTEC Corporation, a leading marine and environmental services provider, has announced its financial... Read more
(Posted on 24/03/23)
Terence Bowles, President and CEO of the St. Lawrence Seaway Management Corporation (SLSMC), and Adam... Read more
(Posted on 20/03/23)
Abu Dhabi based AD Ports Group, the leading facilitator of global trade, logistics, and industry, has... Read more
(Posted on 20/03/23)
Grain handling at the Port of Immingham is increasing thanks to the new opportunities presented by investment... Read more
(Posted on 07/03/23)
Marcor Stevedoring has signed a contract adding Liebherr's largest and most powerful mobile harbour... Read more
(Posted on 07/03/23)
AD Ports Group, an Abu Dhabi based leading facilitator of global trade, logistics, and industry, and... Read more
(Posted on 02/03/23)
LOGISTEC Stevedoring Inc., a subsidiary of LOGISTEC Corporation, a leading North American marine and... Read more
(Posted on 28/02/23)
End-of-year figures for total traffic in the Spanish Port of Bilbao stand at 32.7 million tonnes, up... Read more
(Posted on 24/02/23)
The Port of Sept-Îles and LOGISTEC Arrimage Inc. have announced that they have reached the impressive... Read more
(Posted on 24/02/23)
The war in Ukraine led to unprecedented changes in goods flows last year. At 467.4 million tonnes, total... Read more