Vancouver Fraser Port Authority announces leadership transition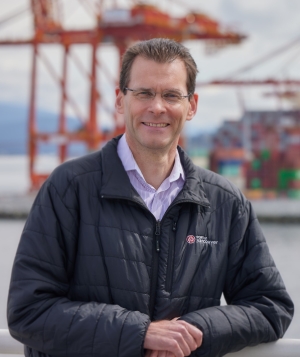 (Posted on 02/06/23)
Vancouver Fraser Port Authority CEO Robin Silvester has announced that he will be leaving the port authority after more than 14 years leading the organization.
The Port of Vancouver is Canada's largest port, and the third largest in North America by tonnes of cargo.
"It is time for a new challenge for me, and to make space for a new leader at the port authority after the recent federal environmental assessment approval of the Roberts Bank Terminal 2 Project, the most significant strategic priority of the last decade," said Robin. "With support from our partners, we have delivered over $1 billion of infrastructure over the last decade and a half. The port authority has a strong leadership team to lead it into the future, and I want to thank the entire port team for their contributions to our collective success."
During Robin's time with the port authority, investments in the Vancouver gateway have helped drive around 40% growth in international trade through the Port of Vancouver, by far Canada's largest port. In addition, Robin's leadership has been a critical part of the port authority's leadership in sustainability, including programs to protect the environment and enable thriving communities.
"I want to thank Robin Silvester for his leadership over the last 14 years," said Judy Rogers, Chair of the Vancouver Fraser Port Authority Board of Directors. "Robin helped guide the port authority through a period of incredible growth and accomplishment, culminating with the recent federal environmental assessment approval of the Roberts Bank Terminal 2 Project."
Robin will be staying on to support a leadership transition, with more details to follow in the coming weeks. The Board of Directors will undertake a global search for a new President and CEO.
The Vancouver Fraser Port Authority is the federal agency responsible for the shared stewardship of the Port of Vancouver. The port authority oversees the use of port land and water, which includes more than 16,000 hectares of water, over 1,500 hectares of land, and approximately 350 kilometres of shoreline.
Located on the southwest coast of British Columbia in Canada, the Port of Vancouver extends from Roberts Bank and the Fraser River up to and including Burrard Inlet, bordering 16 municipalities and intersecting the traditional territories and treaty lands of more than 35 Coast Salish Indigenous groups. Enabling the trade of approximately $305 billion in goods with more than 170 world economies, port activities sustain 115,300 jobs, $7 billion in wages, and $11.9 billion in GDP across Canada.
Latest News
(Posted on 26/09/23)
The Port of Rotterdam Authority and Yokogawa Electric Corporation have initiated a feasibility study... Read more
(Posted on 19/09/23)
HES Gdynia in Poland has started the construction works of a grain storage facility extension in port... Read more
(Posted on 12/09/23)
A joint Statement from the United States and the European Union has been released on support for Angola... Read more
(Posted on 08/09/23)
Associated British Ports has announced the successful renewal of a lease agreement with Breedon Group... Read more
(Posted on 04/09/23)
In North Sea Port, the transportation of goods to the hinterland by inland waterway continues to increase... Read more
(Posted on 28/08/23)
Both the tense economic situation in Europe, especially in Germany, and background geopolitical factors... Read more
(Posted on 21/08/23)
Abu Dhabi based AD Ports Group has announced its financial results for the second quarter of 2023, reporting... Read more
(Posted on 14/08/23)
SOHAR Port and Freezone in the Sultanate of Oman, has signed a land lease agreement with Sohar Noble... Read more
(Posted on 09/08/23)
CN has published its 2023-2024 Grain Plan, which builds on the operational improvements introduced this... Read more
(Posted on 02/08/23)
The Maritime Standard is delighted to announce the unveiling of the second session, titled 'Ports and... Read more