US soy industry welcomes trade and food aid support from USDA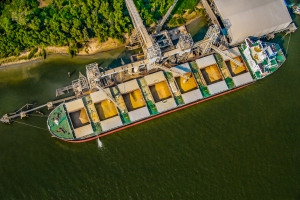 (Posted on 26/10/23)
The American Soybean Association has applauded the U.S. Department of Agriculture's efforts to strengthen U.S. trade and food aid by providing funds to maintain and develop markets and address global hunger. Agriculture Secretary Tom Vilsack announced $2.3 billion will be allocated from the Commodity Credit Corporation, $1.3 billion of which will go toward the Regional Agriculture Promotion Program and diversification of specialty crop export markets, the balance toward international food assistance.
ASA President Daryl Cates, who grows soybeans in Illinois, said, "America's soybean farmers rely on strong existing export markets and opportunities to open and build new markets. It can take decades to grow markets for our beans and only a matter of days in some cases to lose them, so having the funds to sufficiently support export promotion programs is something ASA and soy growers have consistently championed. And, as both an industry that participates in food aid programs and as human beings, we are pleased to see the administration looking for additional ways to help us address global food insecurity."
Cates says he and others in the soy industry are happy to see USDA acknowledging the uncertainty that surrounds agriculture and challenges that arise from that unpredictability, and that the department has conveyed through its funding infusion the importance of market development programs.
"USDA has demonstrated that it recognizes the importance of market promotion programs. We are thankful USDA sees value in the collective efforts of the Foreign Agricultural Service and agriculture cooperators like the American Soybean Association, which are stewards of market development funding and bring vital aid programs and market expansion projects to life," said Cates.
ASA remains committed to its trade and food aid efforts and will continue to push for doubling of Market Access Program and Foreign Market Development program funding in the 2023 Farm Bill reauthorization.
ASA utilizes funds from USDA to support the U.S. Soybean Export Council, which develops and expands markets for U.S. soybean farmers, and ASA's World Initiative for Soy in Human Health, which work to find new and build emerging markets for soy.
Latest News
(Posted on 07/12/23)
Rio Tinto has approved a $77 million (A$110 million) pre-feasibility study (PFS) to progress development... Read more
(Posted on 03/12/23)
Rio Tinto and Giampaolo Group have completed a transaction to form the Matalco joint venture, combining... Read more
(Posted on 03/12/23)
Khalifa Economic Zones Abu Dhabi – KEZAD Group, the largest operator of integrated and purpose... Read more
(Posted on 26/11/23)
ADM, a leader in sustainable agriculture supply chains, has announced an important expansion of its... Read more
(Posted on 17/11/23)
Trafigura, a market leader in the global commodities industry, has agreed to invest in an all-in-one... Read more
(Posted on 17/11/23)
ADM and Marathon Petroleum Corp. have celebrated the opening of their joint venture soybean processing... Read more
(Posted on 13/11/23)
Former U.S. Grains Council (USGC) Director of Global Programmes Alejandra Castillo was named the successor... Read more
(Posted on 13/11/23)
Rio Tinto has completed the acquisition of PanAmerican Silver's stake in Agua de la Falda and... Read more
(Posted on 05/11/23)
Cargill has completed an expansion and modernization project at its integrated soybean crush and refined... Read more
(Posted on 31/10/23)
BHP has approved an investment of US$4.9 billion (C$6.4 billion) for stage two of the Jansen potash... Read more