US Secretary of Agriculture visits Port of Vancouver USA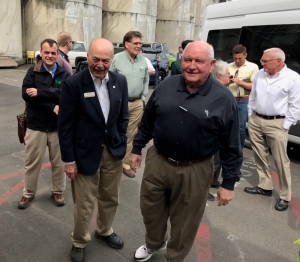 (Posted on 19/07/18)
U.S. Secretary of Agriculture Sonny Perdue has made a stop at the Port of Vancouver USA to talk with leaders in port and river-related industries. Secretary Perdue also toured the port's grain terminal, operated by United Grain Corp., and visited a Tidewater Barge Lines tug and barge at the port's Berth 4. The Port of Vancouver USA is one of the major ports on the Pacific Coast.
"From 465 miles inland into the United States, for our farmer-producers all the way in Idaho (to) ship out of this port… it's a great advantage to America, really, to have this kind of infrastructure," said Secretary Perdue.
Fifty percent of the nation's wheat moves from inland farms to international markets via the Columbia-Snake River System. The river system supports thousands of jobs in trade, transportation, recreation and sustainability.
The Port of Vancouver USA moves 10 percent of the nation's wheat and about 80,000 Subaru vehicles annually, and is the second-largest importer of steel products on the U.S. West Coast. The port's activities support 20,200 jobs and contribute $2.9 billion in economic benefit to the region.
"It was an honor to host Secretary Perdue at the Port of Vancouver and in our community," said port CEO Julianna Marler. "We appreciated the opportunity to share the great work happening here on the Columbia River as well as some of our concerns about trade and agriculture, which are critical issues for communities and workers across Washington state."
Secretary Perdue's stop in Vancouver was part of his Back to Our Roots Tour, during which he visits communities and farms across the country. He started his Pacific Northwest tour in Spokane on 2nd July.
Latest News
(Posted on 24/03/23)
LOGISTEC Corporation, a leading marine and environmental services provider, has announced its financial... Read more
(Posted on 24/03/23)
Terence Bowles, President and CEO of the St. Lawrence Seaway Management Corporation (SLSMC), and Adam... Read more
(Posted on 20/03/23)
Abu Dhabi based AD Ports Group, the leading facilitator of global trade, logistics, and industry, has... Read more
(Posted on 20/03/23)
Grain handling at the Port of Immingham is increasing thanks to the new opportunities presented by investment... Read more
(Posted on 07/03/23)
Marcor Stevedoring has signed a contract adding Liebherr's largest and most powerful mobile harbour... Read more
(Posted on 07/03/23)
AD Ports Group, an Abu Dhabi based leading facilitator of global trade, logistics, and industry, and... Read more
(Posted on 02/03/23)
LOGISTEC Stevedoring Inc., a subsidiary of LOGISTEC Corporation, a leading North American marine and... Read more
(Posted on 28/02/23)
End-of-year figures for total traffic in the Spanish Port of Bilbao stand at 32.7 million tonnes, up... Read more
(Posted on 24/02/23)
The Port of Sept-Îles and LOGISTEC Arrimage Inc. have announced that they have reached the impressive... Read more
(Posted on 24/02/23)
The war in Ukraine led to unprecedented changes in goods flows last year. At 467.4 million tonnes, total... Read more