Tomini Shipping fleet expansion continues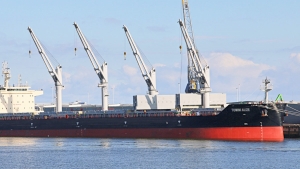 (Posted on 03/09/22)
Tomini Shipping, a leading ship-owner and operator, has further expanded its fleet of bulk carriers with the purchase of a Handysize.
A 2016 Chinese-built 39,045 DWT bulk carrier named as Tomini Alize (formerly known as Interlink Affinity) has joined our fleet bringing the total fleet size to 22 vessels.
Numair Shaikh, CEO of Tomini Group commented: "We see a very positive supply side picture on the handies, with relatively few new builds on order, and an ageing profile of the existing fleet. This leads to greater recycling numbers due to incoming environmental regulations, meaning the fundamentals are very much in favour of a positive handysize segment."
Tomini is listed on the Norwegian OTC market under the symbol TOMINI, an unregulated marketplace owned and managed by the Oslo Stock Exchange.
The Shaikh family has 70 years of experience as ship owners and operators.
Over the last three decades, Tomini have owned some 120 ships and performed over a thousand voyages with chartered vessels, commercially managed by Alpina Shipping. Tomini have a strategic partnership with Alpina Chartering ApS in Denmark that spans 40 years.
Tomini is ISO 14001:2015, ISO 9001:2015 and ISO 45001:2018 certified and committed to the highest levels of environmental, quality and health and safety management.
Latest News
(Posted on 27/01/23)
ClassNK has issued an Approval in Principle (AiP) for a large ammonia fuelled 210,000 DWT bulk carrier... Read more
(Posted on 27/01/23)
Investors in middle aged dry bulk tonnage may be cheered by the impact of sustained higher recycled... Read more
(Posted on 27/01/23)
As one of the most important strategic maritime passages in the world, linking the Indian and Pacific... Read more
(Posted on 23/01/23)
OSM Maritime Group and Thome Group have agreed to a merger of the two companies. By joining forces,... Read more
(Posted on 23/01/23)
In a pivotal move aimed at further strengthening The Swedish Club's long-term position in the... Read more
(Posted on 16/01/23)
International crewing expert Danica Crewing Specialists now has a presence in Mumbai, boosting its recruitment... Read more
(Posted on 10/01/23)
Bahamas-based ship-management group Campbell Shipping has extended its relationship with Inmarsat, a... Read more
(Posted on 10/01/23)
AAL's scheduled monthly 'Asia to Australia West Coast Liner Service' (AUWC) recently... Read more
(Posted on 10/01/23)
Tindall Riley & Co Ltd./ the Managers of Britannia P&I announce that on 5 January 2023 it acquired... Read more
(Posted on 04/01/23)
The Swedish Club has welcomed in the New Year, when it formally greeted its incoming Managing Director... Read more