Tomini adds to its bulker fleet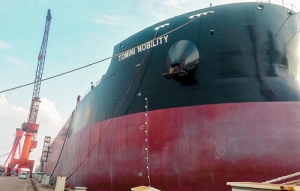 (Posted on 01/10/20)
Tomini Shipping a leading ship owner and operator, has again added to its fleet of dry bulk carriers with the arrival of a Kamsarmax and Ultramax.
The Dubai based shipping company welcomed Tomini Nobility a 81093 DWT newbuild and Tomini Integrity a 2016 Japanese built 60,220 DWT bulk carrier into its fleet.
"These additions to the fleet are testament to our confidence in the long-term prospects for the dry bulk market; we are committed to growing a diverse fleet to meet global transportation needs", commented Nitin Mehta, CEO.
Over the last three decades, Tomini have owned some 120 ships and performed over a thousand voyages with chartered vessels, commercially managed by Alpina Shipping.
Tomini have a strategic partnership with Alpina Chartering ApS in Denmark that spans 40 years.
Latest News
(Posted on 24/03/23)
One Sea has welcomeed Finnish start-up Groke Technologies as its new member, bringing additional expertise... Read more
(Posted on 24/03/23)
ClassNK has released "FAQs on the EU-ETS for Shipping", an overview and necessary preparation... Read more
(Posted on 20/03/23)
AXSMarine, a pioneer and market leader in the provision of advanced solutions for shipping professionals... Read more
(Posted on 20/03/23)
Shipzero is enabling transport and logistics companies to create transparency about their emissions... Read more
(Posted on 07/03/23)
The Isle of Man Ship Registry (IOMSR) has become an associate member of The International Association... Read more
(Posted on 07/03/23)
The wellbeing of crew members is becoming more important to shipping companies says leading catering... Read more
(Posted on 28/02/23)
Canada based Algoma Central Corporation has reported its results for the year ended 31 December, 2022... Read more
(Posted on 24/02/23)
Ukrainian seafarers have largely returned to international shipping thereby restoring balance in crew... Read more
(Posted on 24/02/23)
The Chairs of the Round Table of International Shipping Associations met in Athens last week to renew... Read more
(Posted on 21/02/23)
AXSMarine, a leading provider of SaaS shipping software and data for decision making in the chartering... Read more