Time for change, say Canada's grain farmers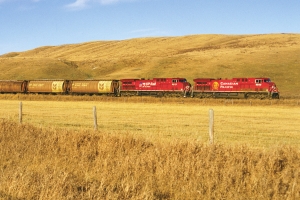 (Posted on 26/05/21)
On welcome news of the Canadian Grain Commission's fee reduction, effective August 1, 2021, Canada's grain farmers continue to underscore the need for comprehensive change to the organization's scope and services.
As the voice of grain farmers in Ottawa, the Grain Growers of Canada recently submitted a series of actionable and urgent requests to Agriculture and Agri-Food Canada under the Canada Grain Act Review – chief among them the need to redefine the role of the Grain Commission and avoid any need for excess surpluses in the future.
"We have a historic opportunity to redefine the role of the Grain Commission and make it work for farmers," said GGC chair Andre Harpe from his farm in Valhalla Centre, AB. "Part of this big change should involve returning surpluses to farmers and relying on third-party providers for weighing and inspection services."
Third-party service providers are already performing weighing and inspection services for approximately $0.50 per tonne – nearly half the rate that of the current Grain Commission model, even under a reduced fee structure.
By shifting to an oversight role, the Grain Commission can focus on fostering a regulatory environment that enhances agriculture's competitiveness and ensures the delivery of high-quality grain for domestic and export markets. This would come with the added benefit of reducing the huge surpluses that are a consequence of the current model, and which place a huge burden on farmers.
"We have been calling on the Grain Commission to reduce their service fees ever since 2017, when we learned that they had accumulated a significant surplus by overcharging farmers," Harpe added. "Farmers are price takers, and we need a model where costs are not passed on to us when a more viable option is available."
Under the current system, the grain industry incurs the costs for both the third-party inspection company and the CGC inspection.
Latest News
(Posted on 03/12/23)
Rio Tinto and Giampaolo Group have completed a transaction to form the Matalco joint venture, combining... Read more
(Posted on 03/12/23)
Khalifa Economic Zones Abu Dhabi – KEZAD Group, the largest operator of integrated and purpose... Read more
(Posted on 26/11/23)
ADM, a leader in sustainable agriculture supply chains, has announced an important expansion of its... Read more
(Posted on 17/11/23)
Trafigura, a market leader in the global commodities industry, has agreed to invest in an all-in-one... Read more
(Posted on 17/11/23)
ADM and Marathon Petroleum Corp. have celebrated the opening of their joint venture soybean processing... Read more
(Posted on 13/11/23)
Former U.S. Grains Council (USGC) Director of Global Programmes Alejandra Castillo was named the successor... Read more
(Posted on 13/11/23)
Rio Tinto has completed the acquisition of PanAmerican Silver's stake in Agua de la Falda and... Read more
(Posted on 05/11/23)
Cargill has completed an expansion and modernization project at its integrated soybean crush and refined... Read more
(Posted on 31/10/23)
BHP has approved an investment of US$4.9 billion (C$6.4 billion) for stage two of the Jansen potash... Read more
(Posted on 31/10/23)
Rio Tinto and cable solution provider Prysmian are partnering to build a more sustainable North American... Read more