thyssenkrupp sells mining business to FLSmidth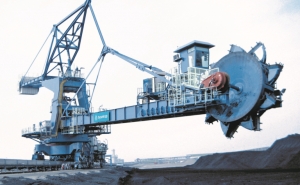 (Posted on 29/07/21)
thyssenkrupp has announced the sale of its Mining Technologies business unit to the Danish company FLSmidth, thus reaching a further important milestone in the initiated realignment of the group. The enterprise value is EUR 325 million. The transaction is subject to competition authority approval. The closing of the transaction is expected within the next 12 months.
The Mining business was allocated to the Multi Tracks segment in October 2020 in order to find a new owner. With the sale, thyssenkrupp is successfully divesting the first major portfolio company in this segment. The business unit currently employs some 3,400 people and generated sales of around EUR 0.8 bn. in fiscal year 2019/2020. The sale is an important step in the initiated transformation of the group and the associated focusing of the portfolio. The aim is to transform thyssenkrupp into a high-performing "group of companies" with independent businesses, a lean holding company and a focus on systematic performance improvement across all businesses.
"The successful sale of the Mining business shows that we are pressing ahead at full speed with the transformation of thyssenkrupp and achieving important results step by step. But we have not yet reached our goal. The principle 'Performance first' continues to apply. We needto return to positive cash flow as quickly as possible. The sale of Mining Technologies makes an important contribution to this," said Martina Merz, CEO of thyssenkrupp AG. "At the same time I am pleased that we have found a very good new owner in FLSmidth. FLSmidth presented a convincing business strategy and a clear vision for the Mining business. It will give our employees attractive prospects. That was extremely important to us when negotiating the sale," said Merz.
Mining business will profit from new ownership structure and attractive development prospects. The tie-up with FLSmidth, a listed company from Denmark and one of the world's leading suppliers of technologies for the mining and cement industries, will create a strong player with a global presence and leading solutions along the entire mining business value chain. A particular focus is on green technologies that can significantly reduce resource consumption and emissions in the mining industry. FLSmidth also has great expertise in taking over companies and has proven highly successful in integrating these companies.
"Thomas Schulz, CEO of FLSmidth, said: "thyssenkrupp's Mining business is an ideal addition for FLSmidth. We are particularly impressed by the capabilities, expertise and reputation of the thyssenkrupp employees, especially in projects and products. The large global installed base offers great potential for the service and aftermarket business. We have similar business models, share a strong focus on sustainability and digitalization and our corporate cultures are a good match. As a result, I am very much looking forward to combining our strengths; I am convinced that together we will play a leading role in shaping a zero emission future for the mining industry and in creating sustainable growth for our customers, employees and shareholders."
Latest News
(Posted on 24/03/23)
BHP and global engineering, project management and professional services firm, Hatch, have signed an... Read more
(Posted on 20/03/23)
Rio Tinto increased its spend with Australian suppliers to more than A$15.3 billion in 2022, as part... Read more
(Posted on 20/03/23)
Trafigura Group Pte Ltd., a market leader in the global commodities industry, has announced the closing... Read more
(Posted on 07/03/23)
Nexyst 360, an innovative grain transportation solution provider, has partnered with Nexxiot to digitalize... Read more
(Posted on 28/02/23)
Cargill has announced the appointments of Joanne Knight as Chief Financial Officer (CFO) and Philippa... Read more
(Posted on 24/02/23)
Trafigura, a market leader in the global commodities industry, has entered into a USD 500 million five... Read more
(Posted on 22/02/23)
British Steel has announced proposals to close its coke ovens as part of its drive to overcome global... Read more
(Posted on 20/02/23)
Global miner Rio Tinto and Japanese trader and business conglomerate Marubeni Corporation have agreed... Read more
(Posted on 20/02/23)
Trafigura, a market leader in the global commodities industry, and Ecobat, the global leader in battery... Read more
(Posted on 13/02/23)
Hydrogen is at the core of the green steel transition. Ensuring access to this scarce resource &ndash... Read more