Teesport secures long-term Gypsum deal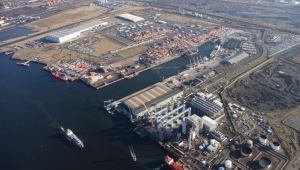 (Posted on 11/12/18)
PD Ports, one of the UK's major port groups, has signed a multi-million pound, five-year contract with British Gypsum, creating new jobs and cementing Teesport's growing reputation as the premier port for bulk handling on the country's east coast.
Part of the global Saint-Gobain group, British Gypsum, which is the UK's leading manufacturer in plaster and plasterboard products for the construction industry, will bring shipments from Europe directly into Teesport every two weeks where it will be stored in a new bulks warehousing facility.
The contract will create four new jobs at the port to handle British Gypsum's UK gypsum rock imports, a vital component in the manufacturing process, destined for the firm's Yorkshire and Cumbrian based facilities.
Through Teesport's dedicated rail terminal directly linked to the bulks facility, trains will run six days a week, providing British Gypsum with a flexible, cost effective and environmentally efficient solution for its UK imports.
Frans Calje, PD Ports' CEO, commented: "This announcement is great news, not just for Teesport but for the wider Tees Valley region. It signifies the high level of confidence the UK bulks and aggregates industry has in Teesport to deliver a service unrivalled by others ports on the east coast.
"As a deep sea port and with the capability to handle larger vessels with direct rail links from port side to customer we are able to provide British Gypsum with the best service possible.
"As part of our long-term growth strategy we have seen in excess of £50M invested in the last few years to develop and expand our platform to support the increased demand to serve the UK's bulks and aggregates market from Teesport.
"This investment symbolises our commitment to the future, providing an important addition to our wider plans at Teesport and its pivotal role in driving government plans to rebalance trade through the Northern Powerhouse."
PD Ports' other UK operations include the short sea ports of Groveport, Howden and Keadby. The group also operates the largest single warehousing facility at the Port of Felixstowe, logistics and transport operations from across the UK as well as operations at Medina Wharf, Isle of Wight.
Latest News
(Posted on 08/02/23)
The municipality of Helgoland has commissioned Hamburg Port Consulting (HPC) to carry out a concept... Read more
(Posted on 06/02/23)
At the conclusion of the 2022 shipping season, Hamilton-Oshawa Port Authority (HOPA) in Canada saw a... Read more
(Posted on 27/01/23)
In addition to helping its 12 member ports decarbonize, the World Ports Climate Action Program (WPCAP... Read more
(Posted on 27/01/23)
The first ship of the year, M/V Cape Alexandros, arrived at 11:00 a.m. on January 4, 2023, from Rotterdam... Read more
(Posted on 27/01/23)
AD Ports Group the leading facilitator of global trade, logistics, and industry, has signed a Memorandum... Read more
(Posted on 23/01/23)
In the presence of the UAE President His Highness Sheikh Mohamed bin Zayed Al Nahyan, and the President... Read more
(Posted on 16/01/23)
The Port of South Louisiana (Port SL) CEO Paul Matthews, has announced that it has entered into a Purchase... Read more
(Posted on 16/01/23)
With 73.6 million tons of cargo transhipment from maritime shipping (+7%) and 64.5 million tons from... Read more
(Posted on 12/01/23)
Despite unfavourable economic conditions, traffic in the port of Dunkerque, the third largest port in... Read more
(Posted on 10/01/23)
North Sea Port CEO Daan Schalck has been looking back as well as forward. 2022, was a year in which... Read more