Teamsters and CN sign agreement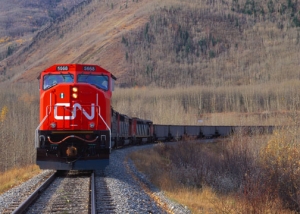 (Posted on 20/05/19)
CN, Canadian National Railway Company has announced that it has reached a tentative agreement with the Teamsters Canada Rail Conference covering approximately 180 rail traffic controllers in Canada.
"With this tentative agreement covering our rail traffic controllers, we are pleased to conclude another negotiation furthering long-term labour stability," said JJ Ruest, president and chief executive officer of CN. "We are committed to working together with our railroaders and their representatives in a mutually beneficial manner."
Details of this tentative agreement are being withheld pending ratification which is expected by the beginning of June.
This comes following an announcement earlier in May that, following four tentative agreements reached between CN and Unifor council 4000 negotiators in March, union members reviewed the agreements and approved three of the four contracts in ratification votes. These tentative agreements were reached prior to their expiration. The three ratified collective agreements cover approximately 2,000 CN railroaders in Canada, including all clerks and intermodal workers, excavator-operators, as well as conductors and locomotive engineers working on the SAR internal shortline in northern Alberta. The agreements include wage increases, ratification bonuses and improved medical, dental and health-care benefits as well as modified work/rest rules.
CN transports more than C$250 billion worth of goods annually for a wide range of business sectors, ranging from resource products to manufactured products to consumer goods, across a rail network of approximately 20,000 route-miles spanning Canada and mid-America. CN, along with its operating railway subsidiaries – serves the cities and ports of Vancouver, Prince Rupert, B.C., Montreal, Halifax, New Orleans, and Mobile, Ala., and the metropolitan areas of Toronto, Edmonton, Winnipeg, Calgary, Chicago, Memphis, Detroit, Duluth, Minn./Superior, Wis., and Jackson, Miss., with connections to all points in North America.
Latest News
(Posted on 28/03/23)
Canadian Pacific has said that, on 14 April, 2023, it will exercise the authority granted by the U.S... Read more
(Posted on 24/03/23)
LOGISTEC Corporation, a leading marine and environmental services provider, has announced its financial... Read more
(Posted on 24/03/23)
Terence Bowles, President and CEO of the St. Lawrence Seaway Management Corporation (SLSMC), and Adam... Read more
(Posted on 20/03/23)
Abu Dhabi based AD Ports Group, the leading facilitator of global trade, logistics, and industry, has... Read more
(Posted on 20/03/23)
Grain handling at the Port of Immingham is increasing thanks to the new opportunities presented by investment... Read more
(Posted on 07/03/23)
Marcor Stevedoring has signed a contract adding Liebherr's largest and most powerful mobile harbour... Read more
(Posted on 07/03/23)
AD Ports Group, an Abu Dhabi based leading facilitator of global trade, logistics, and industry, and... Read more
(Posted on 02/03/23)
LOGISTEC Stevedoring Inc., a subsidiary of LOGISTEC Corporation, a leading North American marine and... Read more
(Posted on 28/02/23)
End-of-year figures for total traffic in the Spanish Port of Bilbao stand at 32.7 million tonnes, up... Read more
(Posted on 24/02/23)
The Port of Sept-Îles and LOGISTEC Arrimage Inc. have announced that they have reached the impressive... Read more