TBA and Peel Ports extend 23-year relationship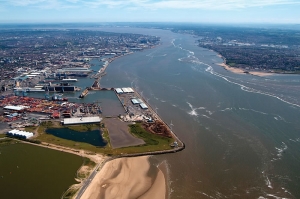 (Posted on 18/07/22)
TBA Group is pleased to announce that Peel Ports Group have signed a framework agreement that will see their Terminal Management Software, CommTrac V4, deployed across four key bulk terminals in Liverpool, United Kingdom.
With over 250 employees globally, TBA is a rapidly growing consultancy and software company that uses simulation, emulation software to optimise the logistic processes of ports, container terminals, airports, manufacturing plants and other logistic systems all over the world.
The upgrade to CommTrac V4 will significantly reduce the demand of manual data input across Peel Ports' operational activities whilst providing improved functionalities, such as standardised and enhanced reporting, comparative multi-terminal data, and improved planning capabilities.
"CommTrac gives us quick and easy access to the information we depend on to make critical operational decisions. The software allows us to manage our day-to-day operations efficiently and effectively and gives us with the ability to plan and react to the evolving needs of our customers," said Lance Weissenborn, Operations and Trading Director at Peel Ports
The longevity and technological advancements of the relationship has facilitated a partnership focused on efficiency, process optimization and value-added solutions to meet the commercial objectives across Peel Ports' bulk terminal portfolio.
David Trueman, Managing Director at TBA Doncaster Limited, stated, "Peel Ports was our first CommTrac customer in 1999 and continues to be a valued client. CommTrac has continued to prove itself as a strategic and robust solution to Peel's operations with the latest deployment offering increasingly advanced functionalities to enhance the performance of Peel's terminals."
Lance Weissenborn further stated, "TBA are integral to Peel Ports journey of growth and development. As a trusted partner they share our vision, our values, and importantly understand our business. I'm delighted we are able to continue our collaborative relationship through the release of CommTrac V4."
TBA Group vision is to offer world-class, end-to-end, integrated software and consultancy solutions for the entire lifecycle of ports, terminals and warehouses. A scalable portfolio of solutions that work for small or large operations, either manual or automated.
Latest News
(Posted on 26/11/23)
A 194 million euro investment in North Sea Port will secure large-scale CO2 reduction by the largest... Read more
(Posted on 17/11/23)
The Central Association of German Seaport Operators (ZDS) has called for a decisive German port policy... Read more
(Posted on 13/11/23)
A groundbreaking feasibility study has highlighted the potential for using clean ammonia to refuel ships... Read more
(Posted on 05/11/23)
IAPH has announced the ratification by the IAPH Council of the new IAPH Board. The Board is formed by... Read more
(Posted on 05/11/23)
CN has announced that it acquired from Genesee & Wyoming Inc., a stake in the Cape Breton &... Read more
(Posted on 31/10/23)
Due to continued very high inflation, the Hamburg Port Authority (HPA) will raise port fees by an average... Read more
(Posted on 31/10/23)
The UK's leading ports group, Associated British Ports (ABP), has appointed Jeff Gibb as Lead... Read more
(Posted on 26/10/23)
In the first nine months of 2023, there was 6% less throughput in the port of Rotterdam: 329.9 million... Read more
(Posted on 26/10/23)
After nine months, the total throughput of Port of Antwerp-Bruges was 204.4 million tonnes, a drop of... Read more
(Posted on 19/10/23)
LOGISTEC Corporation have announced that it has entered into an arrangement agreement with 1443373... Read more