Star Bulk to buy 11 Kelso bulkers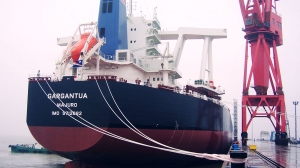 (Posted on 30/05/19)
Star Bulk Carriers Corp., a global shipping company focusing on the transportation of dry bulk cargoes has announced that it has entered into an en-bloc definitive agreement with entities controlled by Delphin Shipping LLC, an entity affiliated with Kelso & Company, pursuant to which the Company will acquire eleven operating dry bulk vessels for an aggregate purchase price of $139.5 million, payable in the form of a) $80.0 million in cash and b) 4.503 million common shares of Star Bulk. The Company has secured exhaust gas cleaning systems for all of the Vessels with attractive delivery dates. The cash portion of the Purchase Price will be financed through proceeds of a new seven-year capital lease of up to $93.6 million with China Merchants Bank Leasing, and an additional tranche of $15.0 million for financing of Scrubbers, thus offering approx. $9.0 million of additional liquidity for Star Bulk.
The Vessel Acquisition, which is expected to be consummated in June 2019, remains subject to the execution of definitive finance agreements and customary closing conditions. The technical management of the 11 vessels will remain with an entity affiliated with Technomar, while commercial management will be taken over by Star Bulk. As a result of the contemplated transaction, entities affiliated with Kelso are expected to own approximately 4.6% of the outstanding common shares of the Company. After giving effect to the Vessel Acquisition, Star Bulk will have a fleet of 120 vessels on a fully delivered basis, aggregate 2 cargo-carrying capacity of approximately 13.1 million deadweight tons and vessels with an average age of 7.8 years.
Star Bulk is a global shipping company providing worldwide seaborne transportation solutions in the dry bulk sector. Star Bulk's vessels transport major bulks, which include iron ore, coal and grain, and minor bulks, which include bauxite, fertilizers and steel products. Star Bulk was incorporated in the Marshall Islands on December 13, 2006 and maintains executive offices in Athens, Oslo, New York, Cyprus and Geneva. Its common stock trades on the Nasdaq Global Select Market and on the Oslo Stock Exchange under the symbol "SBLK". On a fully delivered basis, Star Bulk will have a fleet of 120 vessels, with an aggregate capacity of 13.1 million dwt, consisting of 17 Newcastlemax, 19 Capesize, 2 Mini Capesize, 7 Post Panamax, 35 Kamsarmax, 2 Panamax, 18 Ultramax and 20 Supramax vessels with carrying capacities between 52,055 dwt and 209,537 dwt. Where we refer to information on a "fully delivered basis," we are referring to such information after giving effect to the delivery of two newbuilding vessels and the successful consummation of the Vessel Acquisition.
Latest News
(Posted on 20/03/23)
AXSMarine, a pioneer and market leader in the provision of advanced solutions for shipping professionals... Read more
(Posted on 20/03/23)
Shipzero is enabling transport and logistics companies to create transparency about their emissions... Read more
(Posted on 07/03/23)
The Isle of Man Ship Registry (IOMSR) has become an associate member of The International Association... Read more
(Posted on 07/03/23)
The wellbeing of crew members is becoming more important to shipping companies says leading catering... Read more
(Posted on 28/02/23)
Canada based Algoma Central Corporation has reported its results for the year ended 31 December, 2022... Read more
(Posted on 24/02/23)
Ukrainian seafarers have largely returned to international shipping thereby restoring balance in crew... Read more
(Posted on 24/02/23)
The Chairs of the Round Table of International Shipping Associations met in Athens last week to renew... Read more
(Posted on 21/02/23)
AXSMarine, a leading provider of SaaS shipping software and data for decision making in the chartering... Read more
(Posted on 20/02/23)
Algoma Central Corporation and The CSL Group, who together form the CSL International Pool have announced... Read more
(Posted on 20/02/23)
Swiss marine power company WinGD has launched a pilot project for a new engine diagnostics solution... Read more