Sohar Port signs bunkering agreement with Hormuz Marine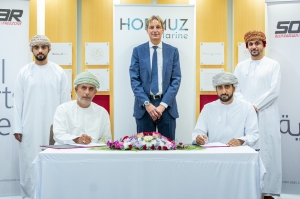 (Posted on 02/09/21)
SOHAR Port and Freezone and Hormuz Marine have signed a bunkering agreement which will see the launch of bunkering services at Sohar Port. The agreement comes in response to the growing need for offshore refueling, allowing vessels to bunker efficiently and speed up global shipping times at the port.
SOHAR Port is a deep-sea port centrally located and within easy reach of the booming economies of the Gulf and the Indian subcontinent. With a reach to over 2.2 billion consumers, it is one of the few global ports equipped with deep-water jetties capable of handling the world`s largest ships. SOHAR Port is ideal for the import and export of a wide variety of dry, break, and liquid bulk, as well as container shipping and is a 50:50 joint venture between the Government of Oman and the Port of Rotterdam.
The flexible service from Hormuz Marine will be available 24 hours a day, seven days a week to provide and operate a 8000 MT tanker capable of delivering several grades of marine fuel to ships in port each day, planning to start by mid of September, 2021. By signing this agreement, SOHAR Port is able to meet the demands of a time-sensitive industry in order to improve the efficiency of the port.
Batti Al Shibli, Harbor Master at SOHAR Port and Freezone, said, "We are delighted to welcome Hormuz Marine to the Port of Sohar. Their expertise in providing an essential service will be vital to our future growth as we look to attract more vessels taking marine services and increase the cargo traffic visiting Sohar. Bunker quality is essential to maintaining efficiency and enabling vessels to meet regulations and tight timeframes. The new service is an incredibly valuable addition to the Port's one-stop-shop marine services available to all visiting ships."
Sulaiman Al Hadhrami, CEO of Hormuz Marine, said, "Our experience in managing a crucial element of the marine supply chain will allow the Port of Sohar to increase its level of service for vessels of all sizes. We're able to deliver VLSFO, HFO, MGO and LSMGO at competitive rates to manage the fuel requirements of ships as they unload or pass through Sohar without the need to remain in port. The Port of Sohar is one of Oman's most important industrial gateways and this service will enhance its reputation as an attractive port of call and add to the Sultanate's position as a word renowned shipping location.
Hormuz Marine is based in Muscat and specialises in assisting shipping companies across the globe via full physical supplies in Sohar, Duqm, and Salalah and bunker trading solutions in several other key regional ports, including Muscat, Khasab, Suwaiq, Shinas and Sur.
Latest News
(Posted on 26/11/23)
A 194 million euro investment in North Sea Port will secure large-scale CO2 reduction by the largest... Read more
(Posted on 17/11/23)
The Central Association of German Seaport Operators (ZDS) has called for a decisive German port policy... Read more
(Posted on 13/11/23)
A groundbreaking feasibility study has highlighted the potential for using clean ammonia to refuel ships... Read more
(Posted on 05/11/23)
IAPH has announced the ratification by the IAPH Council of the new IAPH Board. The Board is formed by... Read more
(Posted on 05/11/23)
CN has announced that it acquired from Genesee & Wyoming Inc., a stake in the Cape Breton &... Read more
(Posted on 31/10/23)
Due to continued very high inflation, the Hamburg Port Authority (HPA) will raise port fees by an average... Read more
(Posted on 31/10/23)
The UK's leading ports group, Associated British Ports (ABP), has appointed Jeff Gibb as Lead... Read more
(Posted on 26/10/23)
In the first nine months of 2023, there was 6% less throughput in the port of Rotterdam: 329.9 million... Read more
(Posted on 26/10/23)
After nine months, the total throughput of Port of Antwerp-Bruges was 204.4 million tonnes, a drop of... Read more
(Posted on 19/10/23)
LOGISTEC Corporation have announced that it has entered into an arrangement agreement with 1443373... Read more