Shi.E.L.D. sees new logistics opportunities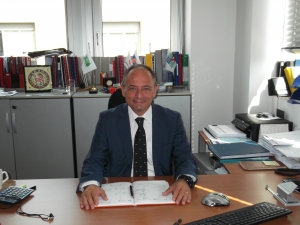 (Posted on 21/07/19)
Shi.E.L.D. Services, a transhipment logistics leader, launched in 2018 and born out of the renowned Coeclerici Logistics company is looking to develop new opportunities wherever they may arise all over the world with particular focus on Africa and South East Asia. Shi.E.L.D. Service's headquarters is in Milan with a branch office in Balikpapan (Indonesia).
"Barging is still very much an essential part of the shipping industry and despite advances in the ocean and air cargo sectors, it is one of the most economical ways to move almost any kind of cargo," said Corrado Cuccurullo, CEO and Founder of Shi.E.L.D.
With more than 30 years in naval architecture and barge transshipment, Cuccurullo is optimistic about the future of the specialist services they offer.
"Wherever there are depth restrictions alongside major bulk exporting regions there is an opportunity to use transshipment facilities. We see transshippers as an integral part of the port loading and unloading process and with careful planning we can optimise offshore loading performance.
"Our expertise is in all aspects of technical and crew management for transhippers and we believe that we can improve the performance of each vessel, driving down costs and increasing profitability," said Cuccurullo.
Shi.E.L.D.'s model is to take 'ownership' of each project, working directly with mining companies and importers of raw materials such as power stations and factories. Currently many of the producers and importers own the vessels and manage the technical and crewing in-house.
"We can offer an integrated solution, so our customers can outsource all aspects of the transshipment operation to us, including design, supervision during construction or conversion and on-site management," he added.
The management team can all boast a wealth of experience through decades of working with Coeclerici Logistics and that continuity has provided the company with a good platform to further develop their business potential.
"We have built relationships with the major mining groups in Europe, Africa, South America and Asia for the last 40 years through Coeclerici and we have been able to maintain those relationships as we have kept the same team together at Shi.E.L.D. Services," he added.
Currently the company is engaged in several projects in Indonesia including four Floating Transfer Stations owned by ABL Logistics and one Floating Transfer Station owned by Transcoal Pacific. The vessels can handle 50,000 tons of coal day and are all equipped with heavy duty cranes and conveyor systems.
Another project is the design for the conversion of a 57,000 dwt supramax vessel into a floating transshipment platform for deployment in Guinea for the bauxite trade.
Shi.E.L.D. Services is also working for RINA Consulting on a logistic project in Pakistan for the importation of coal for a newly built coal-fired power plant near Karachi.
Projects the team have managed in the past include transhipping coal from Maracaibo Lake in Venezuela; designing and managing two sophisticated custom built supramaxes in Africa, which enabled the transportation of coal from shore to an anchorage 25kms offshore to load onto ocean going vessels as well as projects in Italy and Russia.
Shi.E.L.D. Services provides a complete range of services for the logistics and transshipment sectors including feasibility studies, definition and development of optimal logistics solutions, vessel design, supervision of new-building construction and vessel conversion, technical, crew and operational management.
Latest News
(Posted on 24/03/23)
LOGISTEC Corporation, a leading marine and environmental services provider, has announced its financial... Read more
(Posted on 24/03/23)
Terence Bowles, President and CEO of the St. Lawrence Seaway Management Corporation (SLSMC), and Adam... Read more
(Posted on 20/03/23)
Abu Dhabi based AD Ports Group, the leading facilitator of global trade, logistics, and industry, has... Read more
(Posted on 20/03/23)
Grain handling at the Port of Immingham is increasing thanks to the new opportunities presented by investment... Read more
(Posted on 07/03/23)
Marcor Stevedoring has signed a contract adding Liebherr's largest and most powerful mobile harbour... Read more
(Posted on 07/03/23)
AD Ports Group, an Abu Dhabi based leading facilitator of global trade, logistics, and industry, and... Read more
(Posted on 02/03/23)
LOGISTEC Stevedoring Inc., a subsidiary of LOGISTEC Corporation, a leading North American marine and... Read more
(Posted on 28/02/23)
End-of-year figures for total traffic in the Spanish Port of Bilbao stand at 32.7 million tonnes, up... Read more
(Posted on 24/02/23)
The Port of Sept-Îles and LOGISTEC Arrimage Inc. have announced that they have reached the impressive... Read more
(Posted on 24/02/23)
The war in Ukraine led to unprecedented changes in goods flows last year. At 467.4 million tonnes, total... Read more