Sheerness milestone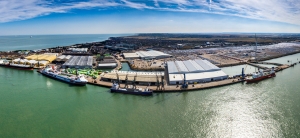 (Posted on 31/07/19)
Peel Ports Group has reached a significant milestone at the Port of Sheerness Wellmarsh development as operations commence at a state-of-the-art timber treatment facility. Over the past 12 months, Peel Ports has invested a total of £27 million into its 50-acre Wellmarsh site, as part of plans to drive significant growth at the port and strengthen its position as a leading terminal for bulk timbers, as well as automotive and other sectors.
The construction of the 26,000 sq ft treatment facility on the former Thamesteel site for customer Rowlinson Timber, represents a £500,000 investment by Peel Ports into purpose-built logistics facilities for forest product customers. The leading UK distributor, stockist and wholesaler of timber will take advantage of the purpose-built space, which includes a high-pressure timber treatment machine operated by highly-trained Peel Ports Group staff.
To improve access to timber facilities, as well as create additional storage space, the chimney which was a historic landmark of the former Thamesteel Mill has now been demolished.
Part of Peel Ports London Medway, Port of Sheerness is the largest terminal of its kind in the UK, handling 1.3 million tonnes of timber and forest products a year, and the additional storage will increase capacity to facilitate annual volumes and further growth demand in coming years.
The site already has 25-acres of custom-built timber storage facilities, including covered and open storage, and continued development will expand this available space further.
Andrew Hunter, Sales Manager at Peel Ports London Medway, said: "The new timber treatment facility is ideally located next to Rowlinson Timber's existing stock holding area and provides the perfect strategic location for the company to serve the booming South East construction market.
"There is the potential for the site to be expanded further due to land availability for both Rowlinson Timber and other customers as we build on our position as an industry leader in bulk timber products.
"Our latest milestone is yet another step to delivering our long-term vision for Wellmarsh and the Port of Sheerness."
Latest News
(Posted on 02/06/23)
Vancouver Fraser Port Authority CEO Robin Silvester has announced that he will be leaving the port authority... Read more
(Posted on 31/05/23)
AD Ports Group , the Abu Dhabi based leading facilitator of global trade, logistics and industry, has... Read more
(Posted on 31/05/23)
The World Port Climate Action Program (WPCAP) will be extended with a new focus on shore power, new... Read more
(Posted on 30/05/23)
Ships sailing from the North Sea via the Westerschelde to unload dry bulk goods at OVET's quay in Vlissingen... Read more
(Posted on 23/05/23)
The problematic trend in the world economy is affecting Port of Hamburg throughput figures. As in other... Read more
(Posted on 23/05/23)
A senior delegation from United Arab Emirates (UAE) visited Karachi and met with H.E. Faisal Sabzwari... Read more
(Posted on 16/05/23)
Two new electric harbour cranes, representing an £8.6 million investment, are the latest arrivals... Read more
(Posted on 14/05/23)
At a ceremony held during the transport logistic trade fair in Munich, Algis Latakas, General Director... Read more
(Posted on 08/05/23)
Associated British Ports (ABP's) Port of Ipswich, the UK's leading grain export port, has... Read more
(Posted on 02/05/23)
AD Ports Group, the Abu Dhabi based leading facilitator of global trade, logistics and industry, has... Read more