Sept-Îles welcomes first ship of 2021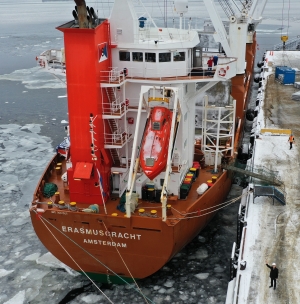 (Posted on 10/01/21)
Flying the flag of the Netherlands, the M/V Erasmusgracht arriving from Lake Charles, Louisiana, was the first ship of 2021 at the Port of Sept-Îles. The ship was in ballast and will be left for Barranquilla, Colombia with a cargo of 10,500 tonnes of aluminum sows from Alouette. Owned
by Spliethoff, the ship has a crew of 13 sailors on board.
Due to the health restrictions in effect with the COVID-19 pandemic, the prestigious cane bearing the image of the Port of Sept-Îles was given to Captain Jaap de Boon by Fundy Shipping's shipping agent. The traditional New Year ceremony at the Port, where the maritime industry and the Sept-Îles business community usually gather to mark the first ship, could not take place due to the pandemic.
Now in its 34th year, the tradition marks the arrival of the first ship of the year to call at the port. To be eligible, the vessel must come directly from a foreign country and be bound for a foreign destination.
The Port would took the opportunity to unveil the preliminary results for the year. Despite an unusual year with the Covid-19 pandemic, 2020 will be the second-best year in terms of tonnage since 1974, and the best year since the creation of the Port Authority in 1999, with 33.1 million metric tonnes handled.
It was on the occasion of the 25th anniversary of the award in 2012 that the traditional gold-headedcane was specially revamped to now present a more contemporary version of this coveted international maritimeaward. Since then, through the selection of its various components and its renewed design, it has honoured and enhanced the pillars of the region's industries which operate through port infrastructures. Inspired by a 3D version of the Port of Sept-Îles logo, this new edition of the polished and anodized aluminum cane is stylishly reminiscent of the blue highway. The redesigned pommel supports an iron ore rock whose lustre is reflected in an acrylic hemisphere. The distinctive component of gold has not been overlooked in the new concept of the trophy. The seven stars illustrated on the logo of the Port of Sept-Îles and recalling the seven islands in the bay have been reproduced in 10-karat gold on the ring of the cane.
The Port of Sept-Îles is North America's largest ore-handling port, with an anticipated volume of close to 38 million tonnes for 2021.
Latest News
(Posted on 26/09/23)
The Port of Rotterdam Authority and Yokogawa Electric Corporation have initiated a feasibility study... Read more
(Posted on 19/09/23)
HES Gdynia in Poland has started the construction works of a grain storage facility extension in port... Read more
(Posted on 12/09/23)
A joint Statement from the United States and the European Union has been released on support for Angola... Read more
(Posted on 08/09/23)
Associated British Ports has announced the successful renewal of a lease agreement with Breedon Group... Read more
(Posted on 04/09/23)
In North Sea Port, the transportation of goods to the hinterland by inland waterway continues to increase... Read more
(Posted on 28/08/23)
Both the tense economic situation in Europe, especially in Germany, and background geopolitical factors... Read more
(Posted on 21/08/23)
Abu Dhabi based AD Ports Group has announced its financial results for the second quarter of 2023, reporting... Read more
(Posted on 14/08/23)
SOHAR Port and Freezone in the Sultanate of Oman, has signed a land lease agreement with Sohar Noble... Read more
(Posted on 09/08/23)
CN has published its 2023-2024 Grain Plan, which builds on the operational improvements introduced this... Read more
(Posted on 02/08/23)
The Maritime Standard is delighted to announce the unveiling of the second session, titled 'Ports and... Read more