Sept-Îles 40 year record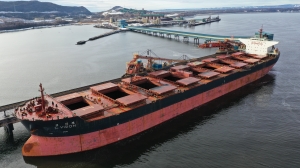 (Posted on 11/12/20)
The Port of Sept-Îles has announced that it has already shipped 30 million tons of goods this year, with a month still remaining in 2020. This is the highest volume shipped since the golden age of the 1970s, when the Port was the second busiest in Canada.
This important milestone is all the more noteworthy for the Port in these pandemic times, when it is so vital to maintain international trade and economic activities, and when the resilience of individuals is so crucial to weathering the global crisis.
Behind each and every one of the tonnes of goods handled this year are men and women working at every level in the logistics chains that keep the Port running. Together they account for more than 4,000 direct and indirect jobs at the Port and in the surrounding areas.
"Whether they work in mining or the rail industry, at Aluminerie Alouette, in local factories or small businesses, or at the Port itself, they all deserve to be recognized for their contributions to achieving this historic milestone and future growth of the Port," said President and CEO Pierre D. Gagnon.
The symbolic 30 millionth tonne will ship out from the Port on its 45-day trip to China aboard the C. VISION from Quebec Iron Ore.
Boasting diverse, state-of-the-art facilities, the Port of Sept-Îles is North America's largest ore-handling port, with an anticipated volume of close to 35 million tonnes for 2020. The port facilities at Sept-Îles play a vital and strategic role in the economy of Eastern Canada.
Latest News
(Posted on 26/11/23)
A 194 million euro investment in North Sea Port will secure large-scale CO2 reduction by the largest... Read more
(Posted on 17/11/23)
The Central Association of German Seaport Operators (ZDS) has called for a decisive German port policy... Read more
(Posted on 13/11/23)
A groundbreaking feasibility study has highlighted the potential for using clean ammonia to refuel ships... Read more
(Posted on 05/11/23)
IAPH has announced the ratification by the IAPH Council of the new IAPH Board. The Board is formed by... Read more
(Posted on 05/11/23)
CN has announced that it acquired from Genesee & Wyoming Inc., a stake in the Cape Breton &... Read more
(Posted on 31/10/23)
Due to continued very high inflation, the Hamburg Port Authority (HPA) will raise port fees by an average... Read more
(Posted on 31/10/23)
The UK's leading ports group, Associated British Ports (ABP), has appointed Jeff Gibb as Lead... Read more
(Posted on 26/10/23)
In the first nine months of 2023, there was 6% less throughput in the port of Rotterdam: 329.9 million... Read more
(Posted on 26/10/23)
After nine months, the total throughput of Port of Antwerp-Bruges was 204.4 million tonnes, a drop of... Read more
(Posted on 19/10/23)
LOGISTEC Corporation have announced that it has entered into an arrangement agreement with 1443373... Read more