Second best year since creation of port authority for Sept-Îles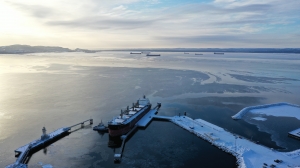 (Posted on 01/02/22)
With results of 32.1 M MT representing the second-best year since the creation of the port authority in 1999, the volume achieved in 2021 is however slightly lower by 3% with that of the previous year of 33.1 M MT.
This very respectable level of port activity nevertheless positions the Port of Sept-Îles in 3rd place among Canadian ports in 2021. This slight decline comes after five successive years of growth related mainly to the world-class infrastructure of the multi-user wharf in Pointe-Noire. Lower iron ore shipments are the main reason for the variance due to certain incidents and equipment breakdowns that affected production for some producers.
However, the new year looks promising with the announcement of Quebec Iron Ore's 7 M MT expansion project starting in the spring, as well as higher volume forecasts announced by other mining companies producing iron ore.
"These new volumes at the Port's facilities should make it possible to cross the 40 M MT mark in 2022, setting an all-time record, as well as possibly reaching the rank of 2nd port in Canada in terms of volume of activity" declared enthusiastically Pierre D. Gagnon, President and CEO of the Port of Sept-Îles.
Boasting diverse, state-of-the-art facilities, the Port of Sept-Îles is North America's largest iron ore handling port, with an anticipated volume of close to 40 million tonnes for 2022. It is also recognized as the most important port terminal for the primary aluminium industry in the Americas for its volume of activity. The port facilities at Sept-Îles play a vital and strategic role in the economy of Eastern Canada. The Port is also deeply committed to sustainable development, pioneering the first environmental observatory on the St. Lawrence to monitor the maritime ecosystem.
Latest News
(Posted on 26/11/23)
A 194 million euro investment in North Sea Port will secure large-scale CO2 reduction by the largest... Read more
(Posted on 17/11/23)
The Central Association of German Seaport Operators (ZDS) has called for a decisive German port policy... Read more
(Posted on 13/11/23)
A groundbreaking feasibility study has highlighted the potential for using clean ammonia to refuel ships... Read more
(Posted on 05/11/23)
IAPH has announced the ratification by the IAPH Council of the new IAPH Board. The Board is formed by... Read more
(Posted on 05/11/23)
CN has announced that it acquired from Genesee & Wyoming Inc., a stake in the Cape Breton &... Read more
(Posted on 31/10/23)
Due to continued very high inflation, the Hamburg Port Authority (HPA) will raise port fees by an average... Read more
(Posted on 31/10/23)
The UK's leading ports group, Associated British Ports (ABP), has appointed Jeff Gibb as Lead... Read more
(Posted on 26/10/23)
In the first nine months of 2023, there was 6% less throughput in the port of Rotterdam: 329.9 million... Read more
(Posted on 26/10/23)
After nine months, the total throughput of Port of Antwerp-Bruges was 204.4 million tonnes, a drop of... Read more
(Posted on 19/10/23)
LOGISTEC Corporation have announced that it has entered into an arrangement agreement with 1443373... Read more