RUSAL announces 2018 results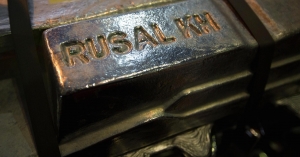 (Posted on 11/03/19)
RUSAL, a leading global aluminium producer, announces its results for the year ended 31 December 2018.
The aluminium market in 2018 was seriously affected by the Office of Foreign Assets Control (OFAC) sanctions as well as the trade wars and imposed import duties that resulted in significant growth of premiums and prices.
During 2018, revenue increased by 3.1% and amounted to USD10,280 million as compared to USD9,969 million for the same period of 2017 following the growth in the London Metal Exchange ("LME") aluminium price, which increased by 7.2% to USD2,110 per tonne as compared to USD1,968 per tonne between the comparable periods. This was partially offset by a 7.2% decrease in primary aluminium and alloys sales volume.RUSAL achieved net profit of USD1.698 billion (+39%, year-on-year ("YoY")) in 2018,compared to USD1.222 bln in 2017. The recurring net profit in 2018 amounted to USD1.695 billion (+7.8%, YoY), compared to USD1.573 bln in 2017.
Commenting on the full year 2018 results, Evgenii Nikitin, CEO of Rusal, said, "Despite the OFAC Sanctions, RUSAL's robust full year results demonstrated skillful crisis management alongside the ability to adapt to a new operations' environment. It maintained its strong market position through its high managerial competence and operational flexibility. In 12M18, aluminium production totaled 3,753 thousand tonnes which is a 1.2% increase compared to the prior year. Total production dynamics remained largely stable with capacity utilization reaching 96%.
The 2018 results demonstrated RUSAL's solid position in its core business: revenue increased by 3.1% to USD10,280 million, and the Company recorded a net profit of USD1.698 billion which is a 39% increase compared to the previous year.
We have continued to actively promote our new brand of low carbon aluminium, "ALLOW" which has been received well, particularly from climate-conscious customers. It has fostered RUSAL's aim of being a green and environmentally friendly Company.
In January 2018, the Company successfully placed its third Eurobond issue. More than 100 investors from Europe, America, Russia and Asia participated in the order book for RUSAL's new Eurobond issuance, which exceeded USD 1.5 billion, and allowed the Company to fix the coupon rate at the level of 4.85% which is the lowest coupon of RUSAL Eurobonds issued to date. This transaction further improved the Company's debt profile and its ability to pursue new business opportunities.
The key achievement of the year is that despite the OFAC Sanctions, the Company remained highly operational, avoided any seismic personnel cuts whilst maintaining well-established multi-industrial supply chains in the countries of operation; this signaled to customers and investors that our business model remains efficient, even in difficult times.
Looking ahead into 2019 and the forthcoming years, we expect aluminium demand to recover after the trade wars and supply shocks of late 2018. Alongside forecasting markets outside China to be in heavy deficit in 2019, we are confident that RUSAL is fully capable to leverage this trend."
Latest News
(Posted on 24/03/23)
BHP and global engineering, project management and professional services firm, Hatch, have signed an... Read more
(Posted on 20/03/23)
Rio Tinto increased its spend with Australian suppliers to more than A$15.3 billion in 2022, as part... Read more
(Posted on 20/03/23)
Trafigura Group Pte Ltd., a market leader in the global commodities industry, has announced the closing... Read more
(Posted on 07/03/23)
Nexyst 360, an innovative grain transportation solution provider, has partnered with Nexxiot to digitalize... Read more
(Posted on 28/02/23)
Cargill has announced the appointments of Joanne Knight as Chief Financial Officer (CFO) and Philippa... Read more
(Posted on 24/02/23)
Trafigura, a market leader in the global commodities industry, has entered into a USD 500 million five... Read more
(Posted on 22/02/23)
British Steel has announced proposals to close its coke ovens as part of its drive to overcome global... Read more
(Posted on 20/02/23)
Global miner Rio Tinto and Japanese trader and business conglomerate Marubeni Corporation have agreed... Read more
(Posted on 20/02/23)
Trafigura, a market leader in the global commodities industry, and Ecobat, the global leader in battery... Read more
(Posted on 13/02/23)
Hydrogen is at the core of the green steel transition. Ensuring access to this scarce resource &ndash... Read more