Rio Tinto partners Volvo for low-carbon and autonomous solutions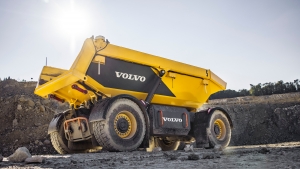 (Posted on 15/09/22)
Rio Tinto and Volvo Group have signed a Memorandum of Understanding (MoU) to create a strategic partnership where Rio will supply responsibly sourced low-carbon products and solutions to Volvo Group and the companies will work towards decarbonising Rio Tinto's operations through piloting Volvo Group's sustainable autonomous hauling solutions.
The multi-materials partnership will allow Rio Tinto, a leading global mining and metals company, to progress sustainability commitments in its operations and supply chains. It will support Volvo Group, one of the world's largest transport and infrastructure providers, in its ambition towards a net-zero future. The partnership aims to secure supplies of materials including lithium, low-carbon aluminium, copper, and metallics.
Rio Tinto Chief Executive Jakob Stausholm said: "We look forward to partnering with Volvo to progress our contribution to a net-zero future, as we collaborate to deliver sustainable outcomes from the mine to the showroom floor. We will be working together to support the decarbonisation of Rio Tinto's operations and deliver low-carbon materials for use in Volvo's innovative product range, including electric and autonomous vehicles."
Volvo President and Chief Executive Officer Martin Lundstedt said: "We are eager to partner with Rio Tinto, a true collaboration aiming to accelerate our ambitions towards a fossil-free, decarbonised future. By addressing the full value chain, from the use of low-carbon materials in our products, to providing our customers with sustainable autonomous hauling solutions, we can contribute to a better and more sustainable future."
The companies will work together to strengthen the supply of responsibly sourced low-carbon materials such as RenewAlTM aluminium, aluminium produced using the ELYSISTM zero-carbon smelting technology, Aluminium Stewardship Initiative (ASI) certified aluminium and Copper Mark certified copper, and explore product development opportunities such as the supply of lithium for batteries.
Notes to editors
The autonomous hauling solution offered by Volvo Autonomous Solutions is based on Transport as a Service (TaaS) and includes a vehicle purpose-built for autonomous driving, a virtual driver, required infrastructure, operations and uptime support as well as a cloud solution that controls the transport system and manages logistics flows. The solutions developed by Volvo Autonomous Solutions are tailor-made for each customers' needs and intended to make their operations more safe, productive and sustainable.
Latest News
(Posted on 26/11/23)
ADM, a leader in sustainable agriculture supply chains, has announced an important expansion of its... Read more
(Posted on 17/11/23)
Trafigura, a market leader in the global commodities industry, has agreed to invest in an all-in-one... Read more
(Posted on 17/11/23)
ADM and Marathon Petroleum Corp. have celebrated the opening of their joint venture soybean processing... Read more
(Posted on 13/11/23)
Former U.S. Grains Council (USGC) Director of Global Programmes Alejandra Castillo was named the successor... Read more
(Posted on 13/11/23)
Rio Tinto has completed the acquisition of PanAmerican Silver's stake in Agua de la Falda and... Read more
(Posted on 05/11/23)
Cargill has completed an expansion and modernization project at its integrated soybean crush and refined... Read more
(Posted on 31/10/23)
BHP has approved an investment of US$4.9 billion (C$6.4 billion) for stage two of the Jansen potash... Read more
(Posted on 31/10/23)
Rio Tinto and cable solution provider Prysmian are partnering to build a more sustainable North American... Read more
(Posted on 26/10/23)
The American Soybean Association has applauded the U.S. Department of Agriculture's efforts to... Read more
(Posted on 26/10/23)
Rio Tinto has appointed James "Joc" O'Rourke as a non-executive director with effect... Read more