RAK Ports signs Guangzhou MoU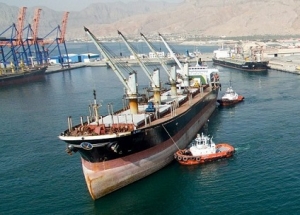 (Posted on 09/10/19)
RAK Ports, Ras Al-Khaimah, the key maritime gateway for import and export activities of the Northern Emirates of the UAE has signed an MoU with Guangzhou Port to establish formal links between the two organizations.
RAK Ports is the largest bulk handling port in the MENA region and is immediately adjacent to one of the largest limestone quarries in the world. Guangzhou Port is one of the largest ports in China and the 7th largest worldwide. Its 2018 cargo volumes were 615 million tonnes and it has an annual container handling capacity of 20.4 million TEUs. Further, RAK Ports and Guangzhou Port are both multi-purpose ports that share many operational similarities.
Moving forward, RAK Ports and Guangzhou Port will discuss future business collaboration with the aim of increasing trade links between Ras Al Khaimah and China.
Mr. Chen Hongxian, Director General of Guangzhou Port Authority and Mr. Roger Clasquin, Chief Commercial Officer of RAK Ports signed the agreement.
Mr. Roger Clasquin, Chief Commercial Officer commenting afterwards said "We are extremely pleased to enter into this strategic partnership with Guangzhou Ports. We view this collaboration as the start of a long term relationship between Ras Al Khaimah and Guangzhou. We have already started discussion on various business proposals and we look forward to moving these forward whilst leveraging Guangzhou Port's existing network of contacts".
Latest News
(Posted on 31/03/23)
The Port of Long Beach and the Los Angeles/Orange Counties Building and Construction Trades Council... Read more
(Posted on 28/03/23)
Canadian Pacific has said that, on 14 April, 2023, it will exercise the authority granted by the U.S... Read more
(Posted on 24/03/23)
LOGISTEC Corporation, a leading marine and environmental services provider, has announced its financial... Read more
(Posted on 24/03/23)
Terence Bowles, President and CEO of the St. Lawrence Seaway Management Corporation (SLSMC), and Adam... Read more
(Posted on 20/03/23)
Abu Dhabi based AD Ports Group, the leading facilitator of global trade, logistics, and industry, has... Read more
(Posted on 20/03/23)
Grain handling at the Port of Immingham is increasing thanks to the new opportunities presented by investment... Read more
(Posted on 07/03/23)
Marcor Stevedoring has signed a contract adding Liebherr's largest and most powerful mobile harbour... Read more
(Posted on 07/03/23)
AD Ports Group, an Abu Dhabi based leading facilitator of global trade, logistics, and industry, and... Read more
(Posted on 02/03/23)
LOGISTEC Stevedoring Inc., a subsidiary of LOGISTEC Corporation, a leading North American marine and... Read more
(Posted on 28/02/23)
End-of-year figures for total traffic in the Spanish Port of Bilbao stand at 32.7 million tonnes, up... Read more