RAK Ports reopens Al Jeer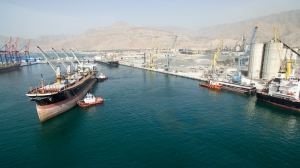 (Posted on 27/05/20)
RAK Ports has further enhanced its already very close relationship with Boskalis by re-opening it's Al Jeer facility for the safe lay-up of Boskalis' marine equipment in Ras Al Khaimah, UAE.
During the past several months, RAK Ports have dedicated time and effort to prepare the facility to suit Boskalis' requirements in the region.
RAK Ports would like to thank the respective Government Control Agencies for their support in re-opening this facility.
Kenneth Neves – Boskalis Yard Manager, Ras Al Khaimah, "We set up our Regional Technical and Logistic Centre in Saqr Port Free Zone (RAK Maritime City, Ras Al Khaimah) in 2012 and have been working closely with RAK Ports ever since. When we ran out of lay-up space for our marine craft at our current facility, RAK Ports was quick to offer a solution of re-opening their Al Jeer port facility dedicated for us. We wish to thank RAK Ports for their support, it has been smooth sailing from the start! "
Saqr Port and Free Zone's huge annual cargo-handling capacity, coupled with its ability to berth the world's largest cargo ships, makes it the key gateway in the supply chain for the majority of construction projects in the Middle East Region.
Latest News
(Posted on 19/09/23)
HES Gdynia in Poland has started the construction works of a grain storage facility extension in port... Read more
(Posted on 12/09/23)
A joint Statement from the United States and the European Union has been released on support for Angola... Read more
(Posted on 08/09/23)
Associated British Ports has announced the successful renewal of a lease agreement with Breedon Group... Read more
(Posted on 04/09/23)
In North Sea Port, the transportation of goods to the hinterland by inland waterway continues to increase... Read more
(Posted on 28/08/23)
Both the tense economic situation in Europe, especially in Germany, and background geopolitical factors... Read more
(Posted on 21/08/23)
Abu Dhabi based AD Ports Group has announced its financial results for the second quarter of 2023, reporting... Read more
(Posted on 14/08/23)
SOHAR Port and Freezone in the Sultanate of Oman, has signed a land lease agreement with Sohar Noble... Read more
(Posted on 09/08/23)
CN has published its 2023-2024 Grain Plan, which builds on the operational improvements introduced this... Read more
(Posted on 02/08/23)
The Maritime Standard is delighted to announce the unveiling of the second session, titled 'Ports and... Read more
(Posted on 01/08/23)
Abu Dhabi based AD Ports Group, the leading global facilitator of trade, logistics, and industry, and... Read more