Raison takes over at HAROPA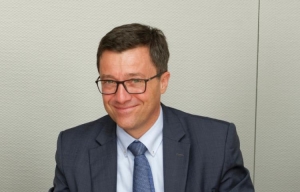 (Posted on 23/11/20)
Mandated by French Prime Minister, Jean Castex, Stéphane Raison has arrived to take up his duties as the first Director General of HAROPA.
HAROPA, the 5th largest port complex in Northern Europe, is a joint venture between the ports of Le Havre, Rouen and Paris.
The government has put Stéphane Raison, until now Director General of the Port of Dunkirk, in charge of the first step of merging the three ports of Le Havre, Rouen and Paris into one single institution. To do this, the new Director General will build on the results of the initial mission which has been underway for the past two years. He will also be supported by the Ministry of Transport, Ministry of the Sea and Ministry of Economy, Finance and Recovery.
"This new stage is made possible today thanks to the work we have done over the last few months: draft strategic plan, preparing agreements with social partners, financial trajectory, governance, organisations etc. All those who took part in these discussions should feel confident about the quality that's recognised in our work, for which we warmly thank them. As Chair of the Board of Directors of Ports de Paris, I will be following the implementation of the mission carefully," said Catherine Rivoallon.
Building on the work carried out by the initial mission, Raison's task will be to refine the strategic project's direction over the next five years and finalise the institutional organisation proposals. He will be assisted in this by the three director generals of the ports with whom he has been working for several years on the development of French ports
"I am highly honoured by the mission entrusted to me by the Prime Minister. I will work to ensure that this collective project galvanises all efforts both internally within the three ports and externally with local authorities, port cities, port customers and social partners of the establishments as well as all agents. As requested by the Prime Minister, I will pay particular attention to the social dimension throughout this latest phase of preparing for the creation of the new institution," said Stéphane Raison.
This next step forward in the process of merging the three ports aims to build a competitive, sustainable complex, in line with the ambitions of France's maritime and port policy. The establishment will be created on 1 June 2021, an institution which Raison is set to take over.
HAROPA serves a vast hinterland, the centre of which is in the Seine valley and the Paris region forming the biggest French consumer market area. With around 10 Normandy and Paris area partner ports, HAROPA now forms in France a global transport and logistics system, capable of providing a comprehensive end-to-end service. HAROPA handles over 120 million tons of cargo by sea and waterway each year.
Latest News
(Posted on 07/12/23)
US Port owners should start immediate planning to take advantage of the $3bn available in grants as... Read more
(Posted on 07/12/23)
The Vancouver Fraser Port Authority's board of directors has announced that it has appointed Peter... Read more
(Posted on 03/12/23)
In the presence of Kassym-Jomart Tokayev, President of the Republic of Kazakhstan, AD Ports Group, a... Read more
(Posted on 03/12/23)
Lhyfe, a global pioneer in the production of renewable green hydrogen for transportation and industrial... Read more
(Posted on 26/11/23)
A 194 million euro investment in North Sea Port will secure large-scale CO2 reduction by the largest... Read more
(Posted on 17/11/23)
The Central Association of German Seaport Operators (ZDS) has called for a decisive German port policy... Read more
(Posted on 13/11/23)
A groundbreaking feasibility study has highlighted the potential for using clean ammonia to refuel ships... Read more
(Posted on 05/11/23)
IAPH has announced the ratification by the IAPH Council of the new IAPH Board. The Board is formed by... Read more
(Posted on 05/11/23)
CN has announced that it acquired from Genesee & Wyoming Inc., a stake in the Cape Breton &... Read more
(Posted on 31/10/23)
Due to continued very high inflation, the Hamburg Port Authority (HPA) will raise port fees by an average... Read more