Rail freight unites to promote decarbonisation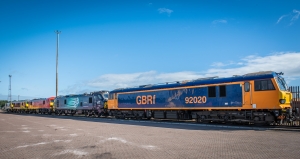 (Posted on 13/09/20)
Four main rail freight companies have come together at Mossend International Railfreight Park (MIRP) in the UK with their electric and hybrid locomotives, in support of the decarbonisation of the logistics supply chain network. It is the first time they have been pictured together in one location.
This rare photo opportunity coincided with the launch of the Scottish Government's Green Investment Portfolio, which saw Economy Secretary Fiona Hyslop also at the MIRP site to promote market-ready projects seeking private capital that will help Scotland transition to a net-zero economy by 2045.
The locomotives on display on site at MIRP included the Direct Rail Services Class 88 (an electro-diesel locomotive manufactured by Stadler Rail), GB Railfreight Class 92 (the most powerful electric locomotive produced for the UK, DB Cargo Limited Class 90 (an electric locomotive built by British Rail Engineering Limited) and two Freightliner UK Class 90s (an electric locomotive).
David Stirling, Director of MIRP operator Peter D Stirling Ltd, said: "In a UK first, four of the most prominent rail freight companies came together to show their support for decarbonising the logistics supply chain and helping to green the Scottish economy. This is a mission we fully embrace with plans to expand MIRP to be Scotland's largest international multi-modal rail freight park facilitating zero carbon logistics.
"Electric and hybrid locomotives are not only more sustainable, they are faster, more reliable and attract commercial freight to our modern freight railways. An increasing number of food retailers are now opting for this solution to move their goods, not least because the major railway routes they use can accommodate electric locomotives; for example, 30 trains per week from Daventry to Mossend. We hope more follow suit."
Latest News
(Posted on 28/03/23)
Canadian Pacific has said that, on 14 April, 2023, it will exercise the authority granted by the U.S... Read more
(Posted on 24/03/23)
LOGISTEC Corporation, a leading marine and environmental services provider, has announced its financial... Read more
(Posted on 24/03/23)
Terence Bowles, President and CEO of the St. Lawrence Seaway Management Corporation (SLSMC), and Adam... Read more
(Posted on 20/03/23)
Abu Dhabi based AD Ports Group, the leading facilitator of global trade, logistics, and industry, has... Read more
(Posted on 20/03/23)
Grain handling at the Port of Immingham is increasing thanks to the new opportunities presented by investment... Read more
(Posted on 07/03/23)
Marcor Stevedoring has signed a contract adding Liebherr's largest and most powerful mobile harbour... Read more
(Posted on 07/03/23)
AD Ports Group, an Abu Dhabi based leading facilitator of global trade, logistics, and industry, and... Read more
(Posted on 02/03/23)
LOGISTEC Stevedoring Inc., a subsidiary of LOGISTEC Corporation, a leading North American marine and... Read more
(Posted on 28/02/23)
End-of-year figures for total traffic in the Spanish Port of Bilbao stand at 32.7 million tonnes, up... Read more
(Posted on 24/02/23)
The Port of Sept-Îles and LOGISTEC Arrimage Inc. have announced that they have reached the impressive... Read more