Pushed barge trackers to improve safety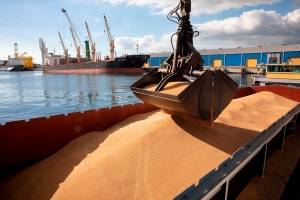 (Posted on 25/06/20)
Port of Antwerp and the Gent area of the North Sea Port are aiming to further digitalise inland waterways via various projects. Thanks to AIS (Automatic Identification System), push boats and inland waterway ships can be easily tracked in the port and on the Flemish waterways. This improves safety and efficiency within the waterways. But what about pushed barges? They rarely have their own power supply and, in turn, don't have AIS to locate them. Thanks to the introduction of a tracker, port authorities, owners, operators and shipping companies will always know where each pushed barge or convoy is located.
If Port of Antwerp and the North Sea Port has digital data, it can be shared between them. At the moment, the indicated composition of a pushed barge convoy is not always up to date. Valuable time can therefore be lost at the lock gates. The trackers only provide accurate information. This supports more reliable lock plans.
It will also mean that an operator or owner know the location of your pushed barge at all times and do not have to manually request a position. This saves time and manpower. The digital history is also important for fulfilling rental contracts and can serve as evidence if you receive an insurance claim.
The mandatory input of a digital report also means that the various pushed barge businesses will soon also be able to benefit from a tracker. The tracker will also improve the safety in ports. The port authorities will know where the pushed barges and convoys are located at any given time. They can then intervene if there is a problem. This initiative is part of the larger 'safe and smooth traffic in the port' project. As well as this initiative concerning digital transition, shipping supervision, planning and enforcement will also have a makeover.
The pushed barge trackers are not mandatory but the Port Authority and North Sea Port are encouraging barge owners to make the necessary investment, particularly with a view to mandatory digitalisation. The Flemish government is therefore prepared to help. Did you buy a pushed barge tracker between 1 January 2019 and 31 December 2020? Then you are eligible for financial support of up to 50% of the purchase price, with a ceiling of EUR 200.
This initiative is a collaboration between North Sea Port and Port of Antwerp with support from the Department of Mobility and Public Works, as part of the Flemish government.
Latest News
(Posted on 20/03/23)
Abu Dhabi based AD Ports Group, the leading facilitator of global trade, logistics, and industry, has... Read more
(Posted on 20/03/23)
Grain handling at the Port of Immingham is increasing thanks to the new opportunities presented by investment... Read more
(Posted on 07/03/23)
Marcor Stevedoring has signed a contract adding Liebherr's largest and most powerful mobile harbour... Read more
(Posted on 07/03/23)
AD Ports Group, an Abu Dhabi based leading facilitator of global trade, logistics, and industry, and... Read more
(Posted on 02/03/23)
LOGISTEC Stevedoring Inc., a subsidiary of LOGISTEC Corporation, a leading North American marine and... Read more
(Posted on 28/02/23)
End-of-year figures for total traffic in the Spanish Port of Bilbao stand at 32.7 million tonnes, up... Read more
(Posted on 24/02/23)
The Port of Sept-Îles and LOGISTEC Arrimage Inc. have announced that they have reached the impressive... Read more
(Posted on 24/02/23)
The war in Ukraine led to unprecedented changes in goods flows last year. At 467.4 million tonnes, total... Read more
(Posted on 24/02/23)
In Q3 2022, two port operating companies in Guyana – Muneshwers Ltd. and John Fernandes Ltd. &... Read more
(Posted on 20/02/23)
The Port of Trois-Rivières closed 2022 with a record number of goods handled. A total of 4.3... Read more