Premadun sets up in Dunkirk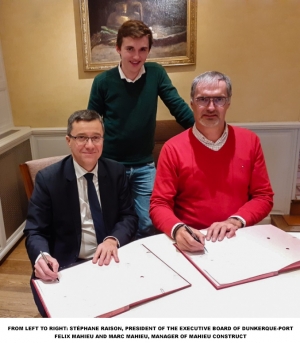 (Posted on 20/12/19)
MAHIEU CONSTRUCT SA, a Belgian company based in Comines (B), specialising in the design, manufacture and assembly of industrial and agricultural buildings made of steel frame or reinforced concrete, has signed a building lease for the occupation of land in the municipality of Loon-Plage with the President of the Executive Board of Dunkerque-Port.
As part of its development dynamic, MAHIEU CONSTRUCT SA wishes to set up a new activity for the production of prefabricated parts made of reinforced concrete.
To launch the business, MAHIEU CONSTRUCT has created a limited liability company under French law, PREMADUN SARL.
The land, with an area of 1 hectare, which will be used to house the manufacturing facility for prefabricated parts used in construction or for building, is located near the Pont à Roseaux, on the Route des prés Février, in Loon-Plage.
In the first phase of the project, the concrete will be delivered ready for use by the Flandres Béton Company located in the River Port area in Loon-Plage. In the second phase, PREMADUN plans to manufacture its own concrete on its site.
PREMADUN should start up business in the first quarter of 2020.
France's third-ranking port, Dunkirk is well known as a port handling heavy bulk cargoes for its numerous industrial installations. Classified as the 7th port of the North Europe Range which extends from Le Havre to Hamburg, it is also France's leading port for ore and coal imports; France's leading port for containerised fruit imports; France's leading port for copper imports; and France's second-ranking port for trade with Great Britain.
Latest News
(Posted on 26/11/23)
A 194 million euro investment in North Sea Port will secure large-scale CO2 reduction by the largest... Read more
(Posted on 17/11/23)
The Central Association of German Seaport Operators (ZDS) has called for a decisive German port policy... Read more
(Posted on 13/11/23)
A groundbreaking feasibility study has highlighted the potential for using clean ammonia to refuel ships... Read more
(Posted on 05/11/23)
IAPH has announced the ratification by the IAPH Council of the new IAPH Board. The Board is formed by... Read more
(Posted on 05/11/23)
CN has announced that it acquired from Genesee & Wyoming Inc., a stake in the Cape Breton &... Read more
(Posted on 31/10/23)
Due to continued very high inflation, the Hamburg Port Authority (HPA) will raise port fees by an average... Read more
(Posted on 31/10/23)
The UK's leading ports group, Associated British Ports (ABP), has appointed Jeff Gibb as Lead... Read more
(Posted on 26/10/23)
In the first nine months of 2023, there was 6% less throughput in the port of Rotterdam: 329.9 million... Read more
(Posted on 26/10/23)
After nine months, the total throughput of Port of Antwerp-Bruges was 204.4 million tonnes, a drop of... Read more
(Posted on 19/10/23)
LOGISTEC Corporation have announced that it has entered into an arrangement agreement with 1443373... Read more