Power supply launch prepares smelter for commissioning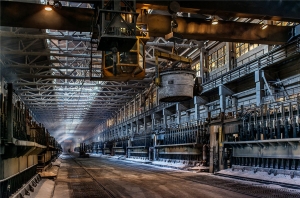 (Posted on 11/03/21)
En+ Group, the world's largest producer of low carbon aluminium and independent hydropower, has announced that the supply of electricity has begun from the Ozernaya substation to the indoor switchgear inverter complete substation (ZRU KPP) of the Taishet aluminium smelter.
The Taishet aluminium smelter is to be commissioned in 2021 with an electricity supply of 390 MW, which will increase in 2022 up to 780 MW. The launch of the power supply has prepared the smelter for commissioning. Single-circuit lines that transfer electricity from the Boguchanskaya hydropower plant will connect the Ozernaya substation and the Taishet aluminium smelter, providing it with renewable hydroelectricity. The Ozernaya substation is located near to the town of Taishet in the Irkutsk region.
The Irkutsk Electric Grid Company launched four 220 kV high-voltage lines from Ozernaya to the Taishet Aluminium smelter with a total length of 2,000 meters. These lines are laid parallel to each other at a distance of 25 meters. The Company has also put into operation a 13.5-kilometer 220 kV overhead fiber-optic transmission line. On February 24, 2021, the Yenisei Department of Federal Service for the Supervision of Environment, Technology and Nuclear Management officially granted permission for the power plant.
550 kV Ozernaya is a new generation substation with cutting edge operational management solutions. Over a period of three years, the 500 kV outdoor switchgear was installed and the 500 kV primary equipment (includes 500 kV rigid busbar 1 and 2, current and voltage transformers, circuit breakers and disconnectors) and distribution point (RP-10-1) put into operation. A group of single-phase 500kV automatic transformers and a 220/35kV transformer were also installed. The construction of the Open-type Switch Over Device (ORU) 220 kV was completed and the equipment was installed in launching complexes No. 1 and 2. The same was achieved with the Open-type Switch Over Device (ORU) 35 kV. Moreover, the construction of two new 500 kV cells was completed as well as the installation of controlled shunt reactors for the Angara-Ozernaya and BoGES-Ozernaya 500 kV high-voltage lines. Earlier, two 500 kV lines were built between the Ozernaya and the Taishet substations and integrated in the Krasnoyarsk power system - 500 kV overhead line No. 505, connected the Ozernaya substation with the existing 500/110/35kV Taishet substation.
Once launched, the Taishet aluminium smelter will add almost 430 thousand tons to En+ Group's total production capacity (the first launching complex will consist of 352 RA-400 electrolysers with a current up to 440 kA). The new high-tech enterprise will become one of the key assets of En+ Group's metal business in Siberia and one of the most environmentally friendly enterprises in the global aluminium industry, creating around 3,000 jobs.
Mikhail Hardikov, head of En+ Group's energy sector, said: "Connecting the Taishet aluminium smelter to the Ozernaya electrical substation represents a significant step in taking the aluminium industry of the Angara region to a new level. The upcoming launch of the Taishet smelter will be a significant driver for the economic development of the Irkutsk region. Aluminium production at the smelter will be powered by clean and renewable hydropower. Total investment for the entire period of construction will be approximately 13 billion roubles."
Latest News
(Posted on 02/06/23)
Rio Tinto plans to invest US$395 million1 in a seawater desalination plant in the Pilbara, Western Australia... Read more
(Posted on 31/05/23)
A new collaboration between BHP and Microsoft has used artificial intelligence and machine learning... Read more
(Posted on 23/05/23)
Bunge and Nutrien Ag Solutions, the retail division of Nutrien Ltd. have announced a strategic alliance... Read more
(Posted on 17/05/23)
Vale has concluded the shipment of its first cargo of iron ore briquettes to be tested in a blast furnace... Read more
(Posted on 12/05/23)
The UK Government's decision to abandon plans to review all EU-derived legislation by the end of 2023... Read more
(Posted on 08/05/23)
The USA's National Grain and Feed Association (NGFA) and 42 other agricultural groups have expressed... Read more
(Posted on 02/05/23)
BHP has announced the completion of the OZ Minerals acquisition and implementation of the scheme of... Read more
(Posted on 02/05/23)
ADM, global leader in nutrition, and one of the leading flour millers in the UK, has for the first time... Read more
(Posted on 28/04/23)
Speaking on behalf of the American Soybean Association and his fellow soy growers, ASA President Daryl... Read more
(Posted on 28/04/23)
Rio Tinto has entered into a binding agreement to acquire the Platina Scandium Project, a high-grade... Read more