Ports of Klaipeda and Hamburg intensify cooperation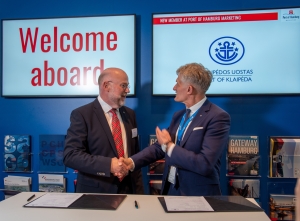 (Posted on 14/05/23)
At a ceremony held during the transport logistic trade fair in Munich, Algis Latakas, General Director of the Klaip?da State Seaport Authority signed a declaration of cooperation with Hafen Hamburg Marketing e.V (HHM). "Joining Hafen Hamburg Marketing e.V. is a continuation of the cooperation agreement signed between the ports of Klaipeda and Hamburg during the visit of the Minister of Transport and Communications to Germany last May," said Algis Latakas, Director General of Klaipeda State Seaport Authority.
It takes the partnership relationship between the two ports to a new level. "The entire Baltic Sea region is of utmost importance for the Port of Hamburg and Klaipeda is one of the leading ports in the Baltic States. We are pleased to welcome Klaipeda Port Authority as a new member and will intensify the cooperation between our ports," said HHM CEO Axel Mattern.
Marina Basso Michael, Regional Director Europe at HHM added, "The deepened cooperation between the Port of Klaipeda and HHM also creates added value for our member ports in Lübeck and Kiel. There have already been many connections between them and Klaipeda for years."
Lithuania is considered an important partner for maritime and land transportation services for the Port of Hamburg. Klaip?da is a multi-modal, multi-purpose, deep-water port, home to 14 major stevedoring, ship repair, and shipbuilding companies and all services related to maritime business and cargo handling.
Latest News
(Posted on 05/06/23)
Peel Ports Group is investing £28 million on a new facility at the Port of Liverpool in its biggest... Read more
(Posted on 02/06/23)
Vancouver Fraser Port Authority CEO Robin Silvester has announced that he will be leaving the port authority... Read more
(Posted on 31/05/23)
AD Ports Group , the Abu Dhabi based leading facilitator of global trade, logistics and industry, has... Read more
(Posted on 31/05/23)
The World Port Climate Action Program (WPCAP) will be extended with a new focus on shore power, new... Read more
(Posted on 30/05/23)
Ships sailing from the North Sea via the Westerschelde to unload dry bulk goods at OVET's quay in Vlissingen... Read more
(Posted on 23/05/23)
The problematic trend in the world economy is affecting Port of Hamburg throughput figures. As in other... Read more
(Posted on 23/05/23)
A senior delegation from United Arab Emirates (UAE) visited Karachi and met with H.E. Faisal Sabzwari... Read more
(Posted on 16/05/23)
Two new electric harbour cranes, representing an £8.6 million investment, are the latest arrivals... Read more
(Posted on 08/05/23)
Associated British Ports (ABP's) Port of Ipswich, the UK's leading grain export port, has... Read more
(Posted on 02/05/23)
AD Ports Group, the Abu Dhabi based leading facilitator of global trade, logistics and industry, has... Read more