Port of Townsville fertilizer boost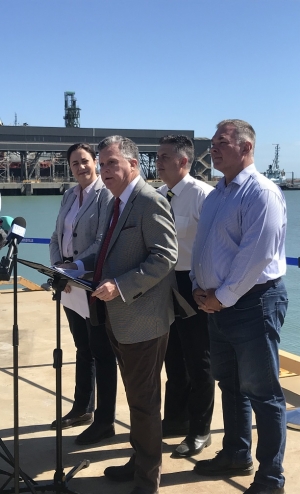 (Posted on 28/05/19)
Queensland Premier, Annastacia Palaszczuk was at the Port of Townsville last week announcing prescribed project status for an Agripower Australia Ltd processing plant to be built in Yabulu near Townsville.
Agripower will use the Port of Townsville to export fertiliser to the world, sourcing it from one of the world's largest deposits of amorphous silica at Greenvale.
Eventually, Agripower expects to produce 1-million tonnes of fertiliser annually from the facility.
Palaszczuk said Agripower Australia Limited's $663 million Fertiliser Expansion Project could create 490 jobs during construction and 470 ongoing operational jobs.
"Agripower's amorphous silica is sourced from what is believed to be the world's largest deposit of the mineral near Greenvale," the Premier said.
"Agripower believes that a two billion tonne deposit could create a mine life of 200 years."
The Premier said Agripower had recently completed construction of a processing facility near Charters Towers able to produce 240,000 tonne of fertiliser per year.
That facility is expected to become operational next month, with the first shipment of 5000 tonnes to be exported to Indian from the Port of Townsville in July.
"The completion of the processing facility is good news for Charters Towers and North Queensland," the Premier said.
"But I am pleased to see Agripower planning for the future demand for this Queensland resource by looking to develop a $663 million processing facility near Yabulu.
"Each year, Agripower expects to produce one million tonnes of fertiliser from the new facility, to be exported to the world – and to do that with a project life of up to 200 years.
"This can mean local jobs for local skilled workers for generations to come."
State Development Minister Cameron Dick said prescribed project status enables Queensland's independent Coordinator-General to assist the proponent to progress the project efficiently by ensuring timely approvals across all agencies.
He said the Office of the Coordinator-General would work with the proponent to identify and navigate the most efficient approvals pathway for the project.
The project is the latest in recent activity from the Palaszczuk Government which has also included:
Approval for the $1 billion Olive Downs Metallurgical Coal Mine, supporting 1500 jobs
Coordinated status for the $1 billion Winchester South Metallurgical Coal Mine, supporting 950 jobs
Approval of nine new mining leases for the Resolute Mine near Ravenswood, supporting 380 jobs
Since January 2015, 199,000 jobs have been created in Queensland.
More than 1000 jobs have been created in the Townsville region in the past year.
Agripower has been undertaking open pit mining at the mine site near Greenvale since 2012 where it processes amorphous silica at their Charters Towers processing facility.
Latest News
(Posted on 24/03/23)
LOGISTEC Corporation, a leading marine and environmental services provider, has announced its financial... Read more
(Posted on 24/03/23)
Terence Bowles, President and CEO of the St. Lawrence Seaway Management Corporation (SLSMC), and Adam... Read more
(Posted on 20/03/23)
Abu Dhabi based AD Ports Group, the leading facilitator of global trade, logistics, and industry, has... Read more
(Posted on 20/03/23)
Grain handling at the Port of Immingham is increasing thanks to the new opportunities presented by investment... Read more
(Posted on 07/03/23)
Marcor Stevedoring has signed a contract adding Liebherr's largest and most powerful mobile harbour... Read more
(Posted on 07/03/23)
AD Ports Group, an Abu Dhabi based leading facilitator of global trade, logistics, and industry, and... Read more
(Posted on 02/03/23)
LOGISTEC Stevedoring Inc., a subsidiary of LOGISTEC Corporation, a leading North American marine and... Read more
(Posted on 28/02/23)
End-of-year figures for total traffic in the Spanish Port of Bilbao stand at 32.7 million tonnes, up... Read more
(Posted on 24/02/23)
The Port of Sept-Îles and LOGISTEC Arrimage Inc. have announced that they have reached the impressive... Read more
(Posted on 24/02/23)
The war in Ukraine led to unprecedented changes in goods flows last year. At 467.4 million tonnes, total... Read more