Port of Sept-Îles acknowledges judgement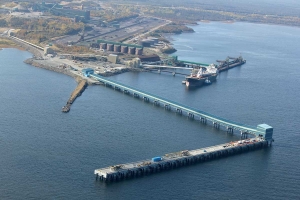 (Posted on 12/05/20)
The Port of Sept-Îles has acknowledged the judgment issued by the
Superior Court of Québec in the district of Mingan in its legal case with Pomerleau Inc. regarding
construction of the multi-user wharf. The court awarded a total of $13,313,671 in damages to
Pomerleau in the ruling.
With its diverse, state-of-the-art facilities, the Port of Sept-Îles is North America's largest ore-handling
port, with a projected volume of close to 35 million tonnes in 2020.
As indicated by the Court, Pomerleau initially brought proceedings against the Port of Sept-Îles on July
20, 2015, for a total of $68.3 million in damages. That figure was amended by Pomerleau on multiple
occasions, down to a final $30.5 million at the end of the trial—significantly higher than the amount
granted in the judgment.
The Port of Sept-Îles plans to go over the judgment with legal counsel before commenting or deciding
on the next step.
The port facilities at Sept-Îles play a vital and strategic role in the economy of Eastern Canada. Annual economic impacts are estimated at
nearly $1 billion and almost 4,000 direct and indirect jobs.
Latest News
(Posted on 26/11/23)
A 194 million euro investment in North Sea Port will secure large-scale CO2 reduction by the largest... Read more
(Posted on 17/11/23)
The Central Association of German Seaport Operators (ZDS) has called for a decisive German port policy... Read more
(Posted on 13/11/23)
A groundbreaking feasibility study has highlighted the potential for using clean ammonia to refuel ships... Read more
(Posted on 05/11/23)
IAPH has announced the ratification by the IAPH Council of the new IAPH Board. The Board is formed by... Read more
(Posted on 05/11/23)
CN has announced that it acquired from Genesee & Wyoming Inc., a stake in the Cape Breton &... Read more
(Posted on 31/10/23)
Due to continued very high inflation, the Hamburg Port Authority (HPA) will raise port fees by an average... Read more
(Posted on 31/10/23)
The UK's leading ports group, Associated British Ports (ABP), has appointed Jeff Gibb as Lead... Read more
(Posted on 26/10/23)
In the first nine months of 2023, there was 6% less throughput in the port of Rotterdam: 329.9 million... Read more
(Posted on 26/10/23)
After nine months, the total throughput of Port of Antwerp-Bruges was 204.4 million tonnes, a drop of... Read more
(Posted on 19/10/23)
LOGISTEC Corporation have announced that it has entered into an arrangement agreement with 1443373... Read more