Port of Rotterdam presents future scenarios for 2050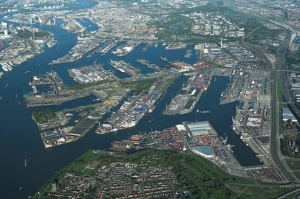 (Posted on 06/10/22)
The Port of Rotterdam Authority has developed four diverse global scenarios in detail to increase understanding of what the future might look like, so that the Port Authority can respond accordingly. What investments are needed to attract new freight flows, business and clean energy? Where should adjustments be made?
Central to these analyses was the issue of how changes in geopolitics, economics, society and technology would impact the port-industrial complex and the size and composition of the port's throughput. Will there be a global focus on ambitious climate action or will the energy transition stall? Will power blocks erect trade barriers to protect their own industries or will free trade be allowed to flourish? Do consumers prefer quality over price or the exact opposite?
The four scenarios towards 2050 and their corresponding concise story lines are:
Connected Deep Green: Effective global cooperation with acceleration on digital transparency in logistics chains and global commitment to targets to combat climate change, resulting in global carbon neutrality by 2050, broad prosperity and high economic growth and a maximum temperature rise of 1.5 degrees Celcius this century.
Regional Well-Being: From a shared commitment to transition, in the absence of sufficient global trust, a tilt towards a regional focus on clean and healthy environments, privacy and well-being emerges within clusters of countries by early 2030. This results in a deteriorating business environment for basic industry in Northwestern Europe and moderate economic growth.
Protective Markets: A world with distrust between power blocks, global geopolitical tensions and suboptimal integration in logistics chains. There are competing economic interests in a fragmented world with focus on self-sufficiency, financial prosperity, resilience and defence. No global carbon neutrality before 2100 and low economic growth.
Wake-Up Call: Increasing concerns about the economic impact of external shocks such as food and energy availability or extreme weather mark a turning point. There is growing awareness that strategic cooperation and rigorous measures are needed to reduce carbon emissions. This results in strategically strong EU policies, moderate economic growth and late but rapid transition to renewable energy.
The impact of each scenario has on throughput in the port of Rotterdam is summarised in the infographic below:
Allard Castelein, CEO of Port of Rotterdam Authority: "These latest estimates show that our portfolio will radically change in the next 30 years. The global scenarios help us to strengthen the position of the port-industrial complex in a targeted manner by focusing on sufficient production and processing capacity, good connectivity with key hinterland markets and accelerating sustainability."
Latest News
(Posted on 26/09/23)
The Port of Rotterdam Authority and Yokogawa Electric Corporation have initiated a feasibility study... Read more
(Posted on 19/09/23)
HES Gdynia in Poland has started the construction works of a grain storage facility extension in port... Read more
(Posted on 12/09/23)
A joint Statement from the United States and the European Union has been released on support for Angola... Read more
(Posted on 08/09/23)
Associated British Ports has announced the successful renewal of a lease agreement with Breedon Group... Read more
(Posted on 04/09/23)
In North Sea Port, the transportation of goods to the hinterland by inland waterway continues to increase... Read more
(Posted on 28/08/23)
Both the tense economic situation in Europe, especially in Germany, and background geopolitical factors... Read more
(Posted on 21/08/23)
Abu Dhabi based AD Ports Group has announced its financial results for the second quarter of 2023, reporting... Read more
(Posted on 14/08/23)
SOHAR Port and Freezone in the Sultanate of Oman, has signed a land lease agreement with Sohar Noble... Read more
(Posted on 09/08/23)
CN has published its 2023-2024 Grain Plan, which builds on the operational improvements introduced this... Read more
(Posted on 02/08/23)
The Maritime Standard is delighted to announce the unveiling of the second session, titled 'Ports and... Read more