Port of Brisbane and Qube extend partnership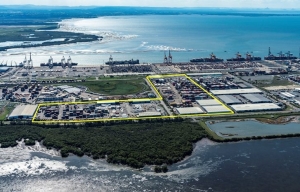 (Posted on 07/07/19)
Port of Brisbane Pty Ltd (PBPL), and the Australian logistics operator, Qube Logistics (Qube), have agreed to a 33-year extension of QUBE's existing lease on Fisherman Islands, incorporating an expanded area, taking the total lease area to 36.2ha.
The 33-year extension takes the fixed lease period to 40-years and increases the total lease area by 4.88ha (adjacent areas) to support Qube's long-term growth.
As part of the agreement, Qube will undertake capital investment into the existing and new lease areas and facilities within five years.
PBPL CEO, Roy Cummins, welcomed the agreement and said Qube's commitment to continue operating at the Port for another four decades was testament to the operational and logistical benefits of being located on-island.
"As Port Manager for the next 90+ years, we are focused on working with existing and new customers: supporting their long-term growth and expansion plans to create shared value," Mr Cummins said.
"Qube is a major operator in the ports and logistics industry, and their ongoing – and growing – presence here at the Port of Brisbane speaks to the important role the port plays in facilitating trade growth not just for our customers, but for Queensland.
"One of the Port of Brisbane's industrial property strengths is our flexibility – we have one of the largest industrial landholdings in south-east Queensland. In addition to bringing new land online at our 224ha Future Port Expansion Area on Fisherman Islands, we also can offer available and configurable greenfield land spaces for medium-to-large developments, compared to a lack of industrial sites elsewhere in the region."
John Digney, Director - Qube Logistics said, "Qube is excited by this opportunity to further commit to its long term investment in the Port of Brisbane. This will give us the certainty in Queensland to further develop our sites to provide market leading integrated logistics solutions by an Australian company."
Latest News
(Posted on 24/03/23)
LOGISTEC Corporation, a leading marine and environmental services provider, has announced its financial... Read more
(Posted on 24/03/23)
Terence Bowles, President and CEO of the St. Lawrence Seaway Management Corporation (SLSMC), and Adam... Read more
(Posted on 20/03/23)
Abu Dhabi based AD Ports Group, the leading facilitator of global trade, logistics, and industry, has... Read more
(Posted on 20/03/23)
Grain handling at the Port of Immingham is increasing thanks to the new opportunities presented by investment... Read more
(Posted on 07/03/23)
Marcor Stevedoring has signed a contract adding Liebherr's largest and most powerful mobile harbour... Read more
(Posted on 07/03/23)
AD Ports Group, an Abu Dhabi based leading facilitator of global trade, logistics, and industry, and... Read more
(Posted on 02/03/23)
LOGISTEC Stevedoring Inc., a subsidiary of LOGISTEC Corporation, a leading North American marine and... Read more
(Posted on 28/02/23)
End-of-year figures for total traffic in the Spanish Port of Bilbao stand at 32.7 million tonnes, up... Read more
(Posted on 24/02/23)
The Port of Sept-Îles and LOGISTEC Arrimage Inc. have announced that they have reached the impressive... Read more
(Posted on 24/02/23)
The war in Ukraine led to unprecedented changes in goods flows last year. At 467.4 million tonnes, total... Read more