Pilbara Ports throughput stays firm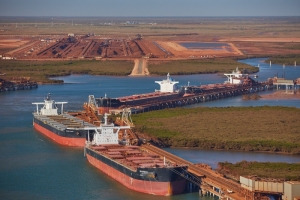 (Posted on 14/06/21)
Western Australia's Pilbara Ports Authority has delivered a total monthly throughput of 62.6 million tonnes (Mt) for May 2021. This throughput was the same amount as May 2020.
The Port of Port Hedland achieved a monthly throughput of 48.4Mt, of which 48.0Mt was iron ore exports. This was the same monthly throughput reported in May 2020.
Imports through the port of Port Hedland totalled 170,000 tonnes, a decrease of three per cent compared to May 2020.
The Port of Dampier delivered a total throughput of 13.3Mt, a two per cent decrease from May 2020.
Imports through the Port of Dampier totalled 109,000 tonnes, an increase of 36 per cent from May 2020.
Pilbara Ports Authority was formed by the amalgamation of the former port authorities of Dampier and Port Hedland. Earlier this year, a new commercial freight shipping service connecting the Pilbara region to the major international shipping hub of Singapore was secured by Rio Tinto.
Latest News
(Posted on 27/01/23)
In addition to helping its 12 member ports decarbonize, the World Ports Climate Action Program (WPCAP... Read more
(Posted on 27/01/23)
The first ship of the year, M/V Cape Alexandros, arrived at 11:00 a.m. on January 4, 2023, from Rotterdam... Read more
(Posted on 27/01/23)
AD Ports Group the leading facilitator of global trade, logistics, and industry, has signed a Memorandum... Read more
(Posted on 23/01/23)
In the presence of the UAE President His Highness Sheikh Mohamed bin Zayed Al Nahyan, and the President... Read more
(Posted on 16/01/23)
The Port of South Louisiana (Port SL) CEO Paul Matthews, has announced that it has entered into a Purchase... Read more
(Posted on 16/01/23)
With 73.6 million tons of cargo transhipment from maritime shipping (+7%) and 64.5 million tons from... Read more
(Posted on 12/01/23)
Despite unfavourable economic conditions, traffic in the port of Dunkerque, the third largest port in... Read more
(Posted on 10/01/23)
North Sea Port CEO Daan Schalck has been looking back as well as forward. 2022, was a year in which... Read more
(Posted on 10/01/23)
A multi-million-pound deal has been agreed to build a new road salt storage facility to support Scotland... Read more
(Posted on 10/01/23)
Ports Minister Rita Saffioti has announced Samuel McSkimming as the new CEO of the Pilbara Ports Authority... Read more