Peel Medway invests to support Kent grain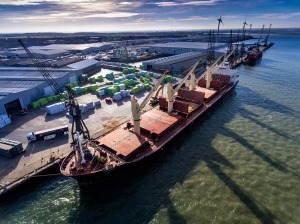 (Posted on 16/08/18)
Peel Ports London Medway has completed a significant investment programme into its grain facilities at the Port of Sheerness, strengthening its existing proposition for Kent's established grain market. Peel Ports Group is the UK's second largest port group, owning and operating six of the UK's most important ports.
Over the past 12 months Peel Ports has invested a total of £5.4m to upgrade its handling and storage facilities at the south east port, increasing its import/export capacity and capability.
This includes the refurbishment of warehousing into TASCC accredited grain storage and the installation of a state-of-the-art elevator/conveyor to ensure vessel loading operations conform to high industry standards when handling food products.
Additionally, the investment has enabled the purchase of new Liebherr LHM 280 Craneage, which will enhance quayside productivity and increase import and export capabilities at the port.
Peel Ports has also invested heavily in specialised operational training for employees to ensure optimal storage and handling processes.
In a strong harvest year, the UK's south east farmers produce an estimated two million tonnes of wheat and 240,000 tonnes of barley. The investment by Peel Ports in its Medway facilities now put it in a prime position to export any surplus grain supply in the region to destinations around the world.
Richard Goffin, Port Director at Peel Ports London Medway, said "Since we opened our grain facilities at Sheerness in 2016, we have been constantly investing in new ways to transform our grain import and export capabilities to better support farmers in Kent, Sussex and the south east.
"This latest round of investment will offer improved facilities for farmers importing and exporting grain from Kent and provide a more efficient and cost-effective route to market.
"It also bolsters our 20-year master plan for growth at Sheerness which will enable us to diversify our offering and ensure sustainable growth, further investment and jobs creation at the port."
Peel Ports' 20-year Master Plan for growth at the Port of Sheerness, outlines a commitment to the sustainable expansion of the port, including improvements in transportation and access as well as increased socio-economic benefits for the region.
Latest News
(Posted on 31/03/23)
The Port of Long Beach and the Los Angeles/Orange Counties Building and Construction Trades Council... Read more
(Posted on 28/03/23)
Canadian Pacific has said that, on 14 April, 2023, it will exercise the authority granted by the U.S... Read more
(Posted on 24/03/23)
LOGISTEC Corporation, a leading marine and environmental services provider, has announced its financial... Read more
(Posted on 24/03/23)
Terence Bowles, President and CEO of the St. Lawrence Seaway Management Corporation (SLSMC), and Adam... Read more
(Posted on 20/03/23)
Abu Dhabi based AD Ports Group, the leading facilitator of global trade, logistics, and industry, has... Read more
(Posted on 20/03/23)
Grain handling at the Port of Immingham is increasing thanks to the new opportunities presented by investment... Read more
(Posted on 07/03/23)
Marcor Stevedoring has signed a contract adding Liebherr's largest and most powerful mobile harbour... Read more
(Posted on 07/03/23)
AD Ports Group, an Abu Dhabi based leading facilitator of global trade, logistics, and industry, and... Read more
(Posted on 02/03/23)
LOGISTEC Stevedoring Inc., a subsidiary of LOGISTEC Corporation, a leading North American marine and... Read more
(Posted on 28/02/23)
End-of-year figures for total traffic in the Spanish Port of Bilbao stand at 32.7 million tonnes, up... Read more