Peel Medway goes for growth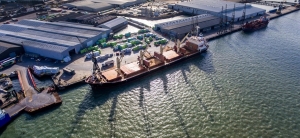 (Posted on 26/02/19)
Peel Ports London Medway has increased the capacity of its warehousing facilities at the Port of Sheerness through an extensive reconfiguration programme.
Responding to an upsurge in demand for warehousing across the country, Peel Ports is now able to offer 30,000m2 of additional flexible and scalable warehouse space at a port-centric location.
The facilities could support the import, export, storage and distribution of paper, plywood, metal plate, and other bulk products, as well as palletised FMCG products, enabling greater supply chain efficiencies and resilience.
Peel Ports has made considerable steps to offer a scalable option for businesses, where they can expand or reduce their warehouse space on demand, as well as having the option of short or long-term contracts, encouraging effective business growth.
Ideally located near London, the secure warehousing provides the perfect base to supply factories, production lines, construction projects and retailers, with rapid access to the London market via the M2 and M20.
Additionally, the port-centric location of Sheerness offers businesses an option for international distribution.
The Port of Sheerness has 11 metre of water depth with no tidal restrictions or lock system, allowing for unrestricted 24 hour berthing ensuring efficient vessel operations.
Andrew Hunter, Sales Manager at Peel Ports London Medway, said: "The Port of Sheerness is a key strategic location for Peel Ports and we are committed to both expanding the port's core commodities, as well as creating further opportunities for our customers through diversification.
"The reconfigured warehouse space has created a hub for storage and distribution of sensitive cargo and represents our dedication to helping businesses establish a base for growth. It provides importers and exporters quick and easy access to London."
Latest News
(Posted on 28/03/23)
Canadian Pacific has said that, on 14 April, 2023, it will exercise the authority granted by the U.S... Read more
(Posted on 24/03/23)
LOGISTEC Corporation, a leading marine and environmental services provider, has announced its financial... Read more
(Posted on 24/03/23)
Terence Bowles, President and CEO of the St. Lawrence Seaway Management Corporation (SLSMC), and Adam... Read more
(Posted on 20/03/23)
Abu Dhabi based AD Ports Group, the leading facilitator of global trade, logistics, and industry, has... Read more
(Posted on 20/03/23)
Grain handling at the Port of Immingham is increasing thanks to the new opportunities presented by investment... Read more
(Posted on 07/03/23)
Marcor Stevedoring has signed a contract adding Liebherr's largest and most powerful mobile harbour... Read more
(Posted on 07/03/23)
AD Ports Group, an Abu Dhabi based leading facilitator of global trade, logistics, and industry, and... Read more
(Posted on 02/03/23)
LOGISTEC Stevedoring Inc., a subsidiary of LOGISTEC Corporation, a leading North American marine and... Read more
(Posted on 28/02/23)
End-of-year figures for total traffic in the Spanish Port of Bilbao stand at 32.7 million tonnes, up... Read more
(Posted on 24/02/23)
The Port of Sept-Îles and LOGISTEC Arrimage Inc. have announced that they have reached the impressive... Read more