PD Ports welcomes Mettalis to Groveport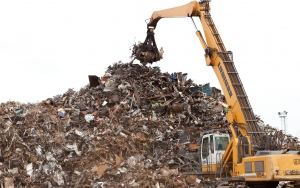 (Posted on 16/04/18)
PD Ports has signed a new long-term contract with one of the UK's leading recyclers of waste metals to provide stevedoring and storage services at Groveport, the inland port complex on the River Trent that has direct sea access along the Humber Estuary.
Mettalis has become the latest metals trading business to take advantage of PD Ports' expertise and services in this industry sector. The Company exports scrap metals worldwide.
With easy access to Groveport thanks to the Port's fast connections to the UK's motorway network just three miles away, Mettalis has started transporting scrap metals from across the UK into the East coast port ready for export. Using a 1.2 acre site adjacent to the quay it can take advantage of dedicated loading and unloading services.
Geoff Lippitt, PD Ports' Business Development Director, sees this new contract as a further testament to the Company's handling expertise.
"Our experience, skills and knowledge in the handling of metals at Groveport has positioned the Port as one of the UK's premier facilities for handling steel products of all kinds, including scrap metals.
"The length of the contract with Mettalis shows real intent on both our parts to support the growth in demand for scrap metal exports."
Mettalis is PD Ports' second major signing in the past few months in the metals industry and this highlights Groveport's strength in this sector. PD Ports has developed its operations at the Port and now has 14 heavy lift quayside cranes up to 40 tonne lift capacity and fully computerised 50 tonne weighbridges to facilitate collections and deliveries using its internal or customer transport.
Jason Coleman, Mettalis Director, believes the expertise PD Ports has in the metal sector was a strong attraction for his company to partner with them.
"Our business is in recycling scrap metal and this is becoming an increasingly important part of our business growth. Our need is to move our product safely, securely and without delays to our recycling customers and using Groveport makes real sense when you consider the location, the stevedoring facilities and the skills and expertise PD Ports offers us. We are confident this long-term partnership will help us expand our business operations even further."
Latest News
(Posted on 05/06/23)
Peel Ports Group is investing £28 million on a new facility at the Port of Liverpool in its biggest... Read more
(Posted on 02/06/23)
Vancouver Fraser Port Authority CEO Robin Silvester has announced that he will be leaving the port authority... Read more
(Posted on 31/05/23)
AD Ports Group , the Abu Dhabi based leading facilitator of global trade, logistics and industry, has... Read more
(Posted on 31/05/23)
The World Port Climate Action Program (WPCAP) will be extended with a new focus on shore power, new... Read more
(Posted on 30/05/23)
Ships sailing from the North Sea via the Westerschelde to unload dry bulk goods at OVET's quay in Vlissingen... Read more
(Posted on 23/05/23)
The problematic trend in the world economy is affecting Port of Hamburg throughput figures. As in other... Read more
(Posted on 23/05/23)
A senior delegation from United Arab Emirates (UAE) visited Karachi and met with H.E. Faisal Sabzwari... Read more
(Posted on 16/05/23)
Two new electric harbour cranes, representing an £8.6 million investment, are the latest arrivals... Read more
(Posted on 14/05/23)
At a ceremony held during the transport logistic trade fair in Munich, Algis Latakas, General Director... Read more
(Posted on 08/05/23)
Associated British Ports (ABP's) Port of Ipswich, the UK's leading grain export port, has... Read more