Palantir and Rio Tinto sign enterprise partnership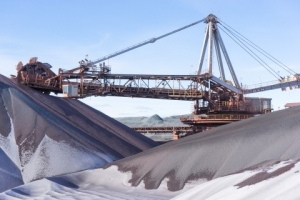 (Posted on 29/01/21)
Palantir Technologies Inc. have announced it has signed a multi-year enterprise agreement for its Foundry Platform with Rio Tinto, one of the world's leading mining and metals corporations.
Palantir's software will integrate raw data from a multitude of disparate sources into a representation of critical mining operations. Rio Tinto will be able to make decisions and take actions using a single source of truth that combines operational and transactional data. This data resource will be available, with the necessary security and privacy controls, to its frontline and office-based workers.
"This partnership is an important step in our digital transformation; enabling fast-paced, forward-looking decision making across our operations leading to improved results in safety, cost and production," says Fay Cranmer, Rio Tinto's CIO. "We are excited to work with Palantir in the collaborative delivery of digital products, with best-in-class data technology."
The new multi-year partnership with Rio Tinto builds on a number of successful data integration projects explored last year across various business units including: transforming Borates to a digital business across the value chain; connecting people with data in Rio Tinto's underground operations; and assisting the company with the safety and well-being of its employees during the COVID-19 pandemic.
"This is a significant industry partnership for us", says Shyam Sankar, COO of Palantir. "Our Foundry Platform has been used extensively to accelerate delivery and optimise value chains across a number of market sectors where safety matters."
About Palantir
Palantir Technologies Inc. is a software company that builds enterprise data platforms for use by organizations with complex and sensitive data environments. From building safer cars and planes, to discovering new drugs and combating terrorism, Palantir helps customers across the public, private, and non-profit sectors transform the way they use their data.
Latest News
(Posted on 03/12/23)
Rio Tinto and Giampaolo Group have completed a transaction to form the Matalco joint venture, combining... Read more
(Posted on 03/12/23)
Khalifa Economic Zones Abu Dhabi – KEZAD Group, the largest operator of integrated and purpose... Read more
(Posted on 26/11/23)
ADM, a leader in sustainable agriculture supply chains, has announced an important expansion of its... Read more
(Posted on 17/11/23)
Trafigura, a market leader in the global commodities industry, has agreed to invest in an all-in-one... Read more
(Posted on 17/11/23)
ADM and Marathon Petroleum Corp. have celebrated the opening of their joint venture soybean processing... Read more
(Posted on 13/11/23)
Former U.S. Grains Council (USGC) Director of Global Programmes Alejandra Castillo was named the successor... Read more
(Posted on 13/11/23)
Rio Tinto has completed the acquisition of PanAmerican Silver's stake in Agua de la Falda and... Read more
(Posted on 05/11/23)
Cargill has completed an expansion and modernization project at its integrated soybean crush and refined... Read more
(Posted on 31/10/23)
BHP has approved an investment of US$4.9 billion (C$6.4 billion) for stage two of the Jansen potash... Read more
(Posted on 31/10/23)
Rio Tinto and cable solution provider Prysmian are partnering to build a more sustainable North American... Read more