OVET to accommodate ships with deeper draughts in Vlissingen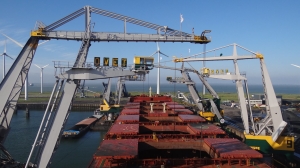 (Posted on 30/05/23)
Ships sailing from the North Sea via the Westerschelde to unload dry bulk goods at OVET's quay in Vlissingen can now enter with a draught of 16.80 metres. That is 10 cm more than was possible until now.
Previously, ships with draughts of up to 16.70 metres could dock at OVET's dry bulk terminal in Vlissingen. But from now on, a vessel with 10 cm more draft, i.e. 16.80 metres, can enter the port. This means that a Capesize ship, which previously could discharge at about 155,000 tons, can now carry up to 3% more cargo such as coal and iron ore on board. OVET receives about a dozen Capesize ships every year, carrying cargo worth as much as $30 million. So the difference is expressed not only in tons but also in cents.
The Joint Nautical Authority has facilitated this increase in capacity by taking a different and more realistic approach to calculating the maximum permitted draught through the Wielingen channel in the Westerschelde. Besides additional vessel stability data, tides and the influence of wind, swell and wave action on the vessel have been taken into account. This allows a realistic figure for draught to be determined even more precisely and means no additional dredging of the channel is required.
This is good news for shipping companies looking for ports for their Capesize ships. Vessels of this type could already enter Vlissingen as well as the classic deepwater ports, but from now on these ships can call at Vlissingen in North Sea Port with increased draught. As a result, North Sea Port has extended its maritime access in Vlissingen. After the opening of the New Lock in Terneuzen, larger ships will also be able to serve companies located in Terneuzen and Ghent. Which is good for a more efficient supply of businesses.
OVET dry bulk terminal is a transhipment company specialising in the storage, transhipment and handling of dry bulk goods such as coal, (pet)coke, anthracite, minerals, agribulk, biomass, rockfill for offshore wind farms and scrap metal. The company was founded in 1957 and has over 100 employees at its terminals in Vlissingen and Terneuzen. With 4 floating cranes, it has a maximum total discharge capacity of 80,000 tons per day.
Latest News
(Posted on 26/09/23)
The Port of Rotterdam Authority and Yokogawa Electric Corporation have initiated a feasibility study... Read more
(Posted on 19/09/23)
HES Gdynia in Poland has started the construction works of a grain storage facility extension in port... Read more
(Posted on 12/09/23)
A joint Statement from the United States and the European Union has been released on support for Angola... Read more
(Posted on 08/09/23)
Associated British Ports has announced the successful renewal of a lease agreement with Breedon Group... Read more
(Posted on 04/09/23)
In North Sea Port, the transportation of goods to the hinterland by inland waterway continues to increase... Read more
(Posted on 28/08/23)
Both the tense economic situation in Europe, especially in Germany, and background geopolitical factors... Read more
(Posted on 21/08/23)
Abu Dhabi based AD Ports Group has announced its financial results for the second quarter of 2023, reporting... Read more
(Posted on 14/08/23)
SOHAR Port and Freezone in the Sultanate of Oman, has signed a land lease agreement with Sohar Noble... Read more
(Posted on 09/08/23)
CN has published its 2023-2024 Grain Plan, which builds on the operational improvements introduced this... Read more
(Posted on 02/08/23)
The Maritime Standard is delighted to announce the unveiling of the second session, titled 'Ports and... Read more