OTG deploys digital software delivery for faster updates for clients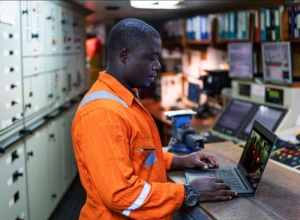 (Posted on 26/06/22)
Ocean Technologies Group (OTG) has developed a new Digital Delivery framework to increase infrastructure security and reduce dependence on physical logistics for content and software application updates.
OTG's learning brands are recognised market leaders of maritime training content and, combined with its software as a service (SaaS) solutions for fleet management operations (TM Master) and maritime HR (COMPAS) that includes integrated onboard modules, the move to a Digital Delivery infrastructure brings a host of tangible benefits.
The new hardware-agnostic technology infrastructure will facilitate over-the-air (OTA) delivery of OTG's applications, providing its customers with faster, more secure updates while supporting constant synchronisation between ship and shore.
Digital Delivery will be rolled out to expedite OTG's customers' transition to its award-winning Ocean Learning Platform, with support for the complete suite of OTG Learning, Fleet Management and Crew Management solutions to follow.
"Since joining OTG, two things became clear to me immediately: One, our solutions are critical to teams onboard globally dispersed fleets. Two, reliance on physical logistics to get content or updates to ships is not only sub-optimal but has proved prone to disruption over the last two years of the pandemic," said Ian Hepworth, Chief Technology Officer for Ocean Technologies Group.
"We are prioritising Digital Delivery to eliminate this risk and several others for our customers' IT teams. Security is improved by eliminating the dependency on USB keys and email updates. Fewer machines need to be maintained on board as solutions can be installed as a virtual machine on existing hardware. Finally, automation of data exchange ensures that everyone has the most up-to-date information, software, and content without needing to request it." he continued.
"The impetus for developing Digital Delivery was to improve the quality of solutions we provide to our customers today and lay a solid foundation for delivering the solutions they will need tomorrow. As connectivity can now facilitate our customers' demand to install and update services over their data connection, Digital Delivery is landing at the perfect time," said Johan Gustafsson, Chief Revenue Officer for Ocean Technologies Group.
Latest News
(Posted on 26/11/23)
Shi.E.L.D. Services has selected Spinergie as its preferred digitized solution provider to monitor and... Read more
(Posted on 26/11/23)
Thousands of cadets and trainees in India will benefit from in-depth wellness training and support thanks... Read more
(Posted on 17/11/23)
As shipping continues its journey to decarbonisation, INTERCARGO will host a special forum in Athens... Read more
(Posted on 13/11/23)
INTERCARGO was deeply saddened and concerned to hear of the reported appalling missile attack on the... Read more
(Posted on 13/11/23)
A new-look Wellness at Sea Awareness Campaign for seafarers, their families and shore staff that &ldquo... Read more
(Posted on 05/11/23)
Classification society DNV has entered into a Joint Development Project (JDP) with AL Group and its... Read more
(Posted on 31/10/23)
Samsung Heavy Industries (SHI) and leading classification society DNV have inked a Memorandum of Understanding... Read more
(Posted on 31/10/23)
WISTA International, during its Annual General Meeting (AGM) held in Montevideo, Uruguay, on 25 October... Read more
(Posted on 31/10/23)
Members of INTERCARGO met in Athens last week for the Association's Annual General Meeting, Executive... Read more
(Posted on 26/10/23)
The Columbia Group (Columbia) has opened a new manning agency, Columbia Shipmanagement Vietnam (CSM... Read more