NGFA commends removal of tariffs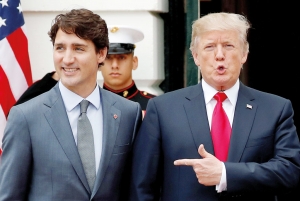 (Posted on 20/05/19)
The United States National Grain and Feed Association (NGFA) has commended the Trump administration and trade negotiators from the United States, Mexico and Canada for successfully completing talks that will lead to the removal of U.S. Section 232 tariffs on imports of steel and aluminum from the two countries, as well as Canada and Mexico's counter-tariffs imposed on U.S. agricultural and other products.
"This is an extremely important development that should spur expeditious ratification of the U.S.-Mexico-Canada (USMCA) trade accord in all three countries," said NGFA President and Chief Executive Officer Randy Gordon. "As an organization that is a strong and unconditional supporter of USMCA, we urge the administration to submit enabling legislation, and Congress to approve, USMCA on a bipartisan basis. In the current trade environment, in particular, U.S. agriculture desperately needs the certainty and market access USMCA will provide."
The National Grain and Feed Association represents and provides services for grain, feed and related commercial businesses. Consisting of more than 1,000 companies, NGFA members handle more than 70 percent of all U.S. grains and oilseeds utilized in domestic and export markets. NGFA is focused on enhancing the growth and economic performance of U.S. agriculture.
Latest News
(Posted on 08/02/23)
Tata Steel has established a Centre for Innovation in Mining and Mineral Beneficiation at the Indian... Read more
(Posted on 06/02/23)
The National Grain and Feed Association (NGFA) in the USA has outlined recommended actions for Congress... Read more
(Posted on 27/01/23)
Cargill has announced that it has completed the acquisition of Owensboro Grain Company, a fifth-generation... Read more
(Posted on 23/01/23)
BHP Xplor, an accelerator programme introduced by BHP in August 2022, has announced its first cohort... Read more
(Posted on 16/01/23)
Trafigura Group Ptd Ltd., a market leader in the global commodities industry, has made a public carbon... Read more
(Posted on 10/01/23)
Jace Hefner has joined the U.S. Grains Council (USGC) in its Washington, D.C., headquarters as the new... Read more
(Posted on 10/01/23)
Cargill has announced that Jamie Miller will step down as Chief Financial Officer to accept an opportunity... Read more
(Posted on 10/01/23)
Adbri Limited has announced that it has extended its cementitious materials supply arrangement with... Read more
(Posted on 04/01/23)
Khalifa Economic Zones Abu Dhabi – KEZAD Group, the integrated trade, logistics, and industrial... Read more
(Posted on 23/12/22)
Australian agribusiness GrainCorp is co-leading a $12 million investment round into rural connectivity... Read more