New Vlissingen quay to enable BTZ expansion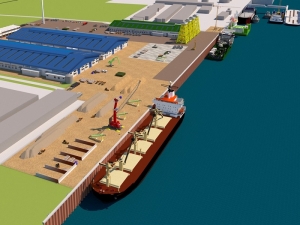 (Posted on 07/02/22)
North Sea Port is building a new 800-metre-long quay at Quarleshaven in East Vlissingen. This will enable the firm Bulk Terminal Zeeland to expand its operations. Shipyard Reimerswaal's quay will also be extended as a result.
The new quay at Bulk Terminal Zeeland in the Sloe area will replace the old quay that is being demolished. A consortium made up of Werkendam hydraulic engineers Hakkers and De Klerk will start construction of the new quay in late March 2022. The new 800-metre quay will be completed by the end of 2024. As a result, the quay on the south side of Quarleshaven will be a total of 1,200 metres long. North Sea Port is investing a full €40 million euros in new port infrastructure here.
The transhipment company Bulk Terminal Zeeland will see its quay extended from 250 metres to 440 metres. This will provide more space for the transhipment of dry bulk such as wood pellets, gypsum, raw materials for the steel industry, organic agricultural products and boulders for reinforcing offshore wind turbines.
The construction of the new quay will also free up an additional 10 hectares of land for allocation to Bulk Terminal Zeeland. And there is still enough space between the terminal and Shipyard Reimerswaal for a new company to use.
Various types of seagoing vessels will be able to moor at the new quay, for example project cargo vessels, heavy-lift vessels, bulk carriers, fruit carriers and tankers with a draught of up to 12.5 metres, as well as inland vessels. There is potential to increase the water depth by two metres at a later date. The quay will be reinforced and made suitable for loads of up to 5 tons per square metre.
"Part of the quay will be made accessible and prepared for potential customers who want to establish operations at Quarleskade," says Daan Schalck, CEO of North Sea Port. "This represents an efficient use of our port infrastructure." The new quay will also connect to Shipyard Reimerswaal's terminal, which will acquire an additional 40 metres of quayside once it is complete. As a result, the ship maintenance and repair company will have a total of 425 metres of quayside.
Hein van Laar, commercial director of Hakkers BV notes: "Following on from previous successful projects in Vlissingen, Hakkers and De Klerk are very proud to deliver this new project for North Sea Port. It demonstrates our strengths as a construction and hydraulic engineering partnership with all the necessary disciplines in-house."
Latest News
(Posted on 26/09/23)
The Port of Rotterdam Authority and Yokogawa Electric Corporation have initiated a feasibility study... Read more
(Posted on 19/09/23)
HES Gdynia in Poland has started the construction works of a grain storage facility extension in port... Read more
(Posted on 12/09/23)
A joint Statement from the United States and the European Union has been released on support for Angola... Read more
(Posted on 08/09/23)
Associated British Ports has announced the successful renewal of a lease agreement with Breedon Group... Read more
(Posted on 04/09/23)
In North Sea Port, the transportation of goods to the hinterland by inland waterway continues to increase... Read more
(Posted on 28/08/23)
Both the tense economic situation in Europe, especially in Germany, and background geopolitical factors... Read more
(Posted on 21/08/23)
Abu Dhabi based AD Ports Group has announced its financial results for the second quarter of 2023, reporting... Read more
(Posted on 14/08/23)
SOHAR Port and Freezone in the Sultanate of Oman, has signed a land lease agreement with Sohar Noble... Read more
(Posted on 09/08/23)
CN has published its 2023-2024 Grain Plan, which builds on the operational improvements introduced this... Read more
(Posted on 02/08/23)
The Maritime Standard is delighted to announce the unveiling of the second session, titled 'Ports and... Read more