New Dunkirk access point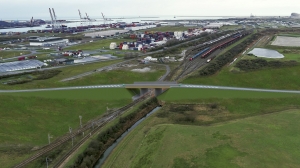 (Posted on 01/03/21)
The construction of the Dunkerque Logistique International (DLI) South structure and service road, which began in December 2020, is making swift progress. Once completed, it will facilitate the crossing of the Loon-Plage railway complex and will directly link up to the multi-modal DLI South platform from the Continents roundabout.
France's third-ranking port, Dunkirk is well known as a port handling heavy bulk cargoes for its numerous industrial installations. Classified as the 7th port of the North Europe Range which extends from Le Havre to Hamburg, it is also France's leading port for ore and coal imports; France's leading port for containerised fruit imports; France's leading port for copper imports; and France's second-ranking port for trade with Great Britain.
With a total cost of €2.8m, the work is comprised of:
A railway-crossing structure made up of a three-span reinforced concrete bridge, with 2 piers and 2 abutments. Measuring 51 metres long and 17.2 metres tall, it features 2 lanes for traffic, 1 lane which will eventually be used exclusively by driverless vehicles between the container terminals and the DLI South platform, and 2 pavements.
2 access ramps to the bridge measuring 820m, backfilled with sand.
A new road measuring 820 metres long and 8 metres tall, which joins up to the Continents roundabout and the already-completed DLI South service road.
A technical corridor allowing access to the gas, water and electricity networks, built into both the access ramps and the deck of the structure.
The Port of Dunkirk's Development and Environment Management teams will oversee the execution of the work.
It is expected to be completed by July 2021.
Daniel Deschodt, interim Chairman of the Board of Dunkerque-Port: "The construction of this structure is a clear reflection of our desire to continue welcoming investors with the best infrastructure possible. This has long been our approach, and it continues to be so. We heavily invest in infrastructure in order to achieve our goal: In 2019, Dunkerque-Port dedicated over €42m, and in 2020, the objective was to invest another €37.7m which, due to the ongoing pandemic, was reduced to €21.6m. Thanks to the Port Recovery Plan, the amount we have available to invest this year has doubled to a total of €51m."
Latest News
(Posted on 07/12/23)
US Port owners should start immediate planning to take advantage of the $3bn available in grants as... Read more
(Posted on 07/12/23)
The Vancouver Fraser Port Authority's board of directors has announced that it has appointed Peter... Read more
(Posted on 03/12/23)
In the presence of Kassym-Jomart Tokayev, President of the Republic of Kazakhstan, AD Ports Group, a... Read more
(Posted on 03/12/23)
Lhyfe, a global pioneer in the production of renewable green hydrogen for transportation and industrial... Read more
(Posted on 26/11/23)
A 194 million euro investment in North Sea Port will secure large-scale CO2 reduction by the largest... Read more
(Posted on 17/11/23)
The Central Association of German Seaport Operators (ZDS) has called for a decisive German port policy... Read more
(Posted on 13/11/23)
A groundbreaking feasibility study has highlighted the potential for using clean ammonia to refuel ships... Read more
(Posted on 05/11/23)
IAPH has announced the ratification by the IAPH Council of the new IAPH Board. The Board is formed by... Read more
(Posted on 05/11/23)
CN has announced that it acquired from Genesee & Wyoming Inc., a stake in the Cape Breton &... Read more
(Posted on 31/10/23)
Due to continued very high inflation, the Hamburg Port Authority (HPA) will raise port fees by an average... Read more